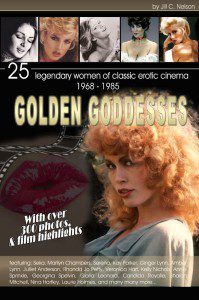 Those of us who think of West Hollywood as all bedecked in rainbow flags need to realize there's another side to life in our little burg. If you doubt that, consider attending Hustler Hollywood's party celebrating the publication of "Golden Goddesses," a collection of profiles of 25 of the most celebrated actresses in adult films from 1968 to 1985.
The event, being staged Thursday night (Nov. 29) in partnership with BearManor Media, the book's publisher, will include a reading from the book and a question and answer session with author Jill C. Nelson. Champagne and cake will be served. But the real icing on the cake will be guests such as Annie Sprinkle, Christy Canyon, Kay Parker, Raven Touchstone, Serena, Rhonda Jo Petty, Georgina Spelvin, Ginger Lynn, Nina Hartley, Kitten Natividad, Laurie Holmes, Kyler Quinn, Veronica Hart, Sharon Mitchell, Julia St.Vincent, Carly Mills and Kelly Nichols, many of whom are profiled in the book.
Admission is free but you must RSVP to nelson4@cogeco.ca or by calling (323) 651-5400, ext. 7687. (And hey, if you don't get in, you can always hang around outside the store when the party is ending). Hustler Hollywood, at 8920 Sunset Blvd. near San Vicente, opened in 1998 as the first of what are now 10 stores specializing in all forms of adult entertainment.