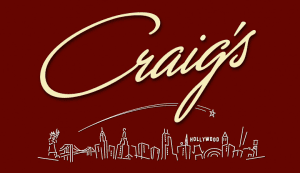 Craig's, the upscale American restaurant opened by the former manager and maître d' of the legendary West Hollywood industry hangout Dan Tana's, has been open for almost a year. The opening of the restaurant inspired a New York Times article titled "A Contender Elbows In," chronicling the way Craig Susser left Dan Tana's and "opened his own restaurant that threatens to dim his ex-employer's Hollywood wattage."
But what of the food?
Since the opening of this casually formal spot, diners have almost universally enjoyed the service and atmosphere, but sentiments on the food have been mixed. The Los Angeles Times gave the food a poor review, despite enjoying the service and atmosphere. Even so, there are plenty of satisfied customers raving about their experience (including the food) on sites like Yelp and Urban Spoon.
For me, the most exciting and surprising thing about the menu at Craig's is the manner in which vegan options are incorporated into a place that's otherwise solidly traditional American restaurant fare. I'm not even remotely vegan, but have dined with friends who struggle to decipher a menu or have to interrogate a server about ingredients.
But at Craig's, vegan options are listed under a separate heading, right between the pizzas and the pastas (by the way, both can be ordered gluten-free upon request for an extra $2). There's a vegan version of the restaurant's most popular dish, the honey truffle chicken, for $29, made with gardein. There are also stuffed peppers ($24), a spaghetti squash primavera ($26), a warm quinoa salad ($24), and a vegan chicken Parmesan ($28) also made with gardein.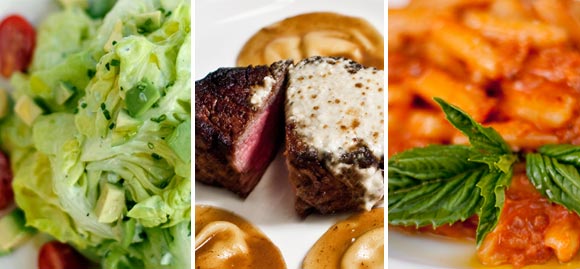 The full inclusion of vegan options along with comfort foods in a mainstream restaurant is refreshing. For too long, vegans (or just the health-conscious) have had to segregate themselves to places specializing in only healthy or vegan foods, or endure frustrating evenings at non-specialty restaurants. There's no reason why a restaurant can't do both. Perhaps this is one tiny step toward a broader movement of accepting veganism into the mainstream?
And for those of us non-vegans, the honey truffle chicken ($28) is the most popular item. Also popular and notable is the signature dish, an 8-ounce filet mignon over a bed of blue cheese ravioli ($45). A few other highlights include the ahi tuna tartare ($18) and pigs in a blanket ($12) appetizers, pizzas (including a vegan one) from $14 to $18, a nice classic wedge salad ($11) and ultimate comforts like meatloaf with mashed potatoes and gravy ($26) and an 18-ounce prime rib with fries ($48). Reviewers rave about the chocolate bread pudding ($12) for dessert.
Oh, and you're likely to see someone famous if you dine at Craig's.
Craig's is open for dinner seven nights a week, and also has a special lunch-to-go menu.
8826 Melrose Ave. near North LaPeer. For reservations, call (310) 276-1900.