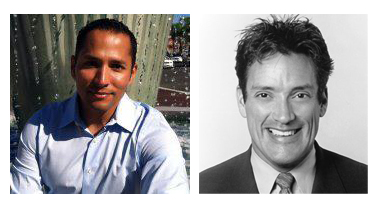 The temperature in the already heated campaign for the West Hollywood City Council has risen another degree with a challenge by council incumbent John Duran and his lawyer to candidate Chris Landavazo's campaign manager.
An Oct. 19 letter from Joseph Guardarrama of Kaufman Legal Group, who is representing Duran, asks Landavazo campaign consultant John Applegate to "immediately cease and desist from using any confidential information that you obtained while working as a consultant to Mr. Duran and the Committee." A copy of the letter was made available to WEHOville.
Duran was not immediately available for comment.
In 2009, Applegate worked as a fundraiser for Duran, who has served on the council for 11 years, and his re-election committee. That relationship apparently soured, with Applegate telling Duran in a Sept. 22 email that he wouldn't continue working with Duran because of differences on unspecified "principled and moral grounds." Duran's campaign now is managed by Steve Afriat, who also is managing Mayor Jeffrey Prang's re-election campaign and has worked for council members John Heilman and Abbe Land and the late Sal Guarriello.
The Duran campaign's only apparent contract with Applegate, signed in April 2004 and a copy of which was reviewed by WEHOville, requires him to keep confidential any information he gathered while working on the Duran campaign. Applegate, not conceding that he has used such information on Landavazo's behalf, said "(Duran) doesn't own anything. Our agreement doesn't allow him any rights to the data and was only for a two-year period during the 2005 campaign."
Applegate went on to call the letter an "intimidation tactic."
Applegate also contends that Duran has failed to reimburse him for some $17,000 in 2009 campaign expenses.
Landavazo is a West Hollywood deputy sheriff and founder of Cops 4 Causes, a non-profit organization of police officers that raises money for disabled children and adults. Last month he stepped quietly into the campaign for council seats held by Duran and Prang.
Other challenges are former council member Steve Martin, an attorney, and Sam Borelli, a communications consultant and city Public Safety Commission member. Landavazo raised his profile dramatically with a Nov. 19 appearance at a West Hollywood City Council meeting where he accused the incumbents of "campaign thuggery." He alleged that their campaigns had contacted local businesses and residents to pressure them not to support Landavazo.
Landavazo's accusations came shortly after Steve Martin and other members of the West Hollywood Term Limits campaign accused Duran and Prang of pressuring Micky's, the bar on Santa Monica Boulevard, to rescind its agreement to let term limits campaigners celebrate their success in gaining sufficient signatures to put a term limits proposal on the March 5 ballot.
Term limits advocates propose that future council candidates be limited to 12 years of service. They argue that incumbents Duran, Prang, John Heilman and Abbe Land, with 27, 20, 11 and 15 years on the council respectively, are unresponsive to neighborhood concerns. Councilmember John D'Amico was elected last year. West Hollywood Term Limits campaigners celebrated at another location, which they kept secret, saying they feared pressure on that business from the incumbents.
In another stir of campaign dust, A.J. Ward, president of the Gay Peace Officers Association, an association of LGBT law enforcement officers, sent an email to GPOA members on Oct. 24 complaining that Landavazo has used email addresses acquired during his time as secretary of GPOA to contact members and ask them to support his candidacy. Ward conceded in an email to members Friday that Landavazo had been given permission to use the GPOA contact information by one of its officers. He said GPOA is reviewing its policies regarding use of membership information.
Editor's Note: An earlier version of this story erroneously stated that Joseph Guardarrama was appointed to the West Hollywood Planning Commission by John Duran. Guardarrama, who no longer sits on the commission, was appointed by former council member Sal Guarriello.