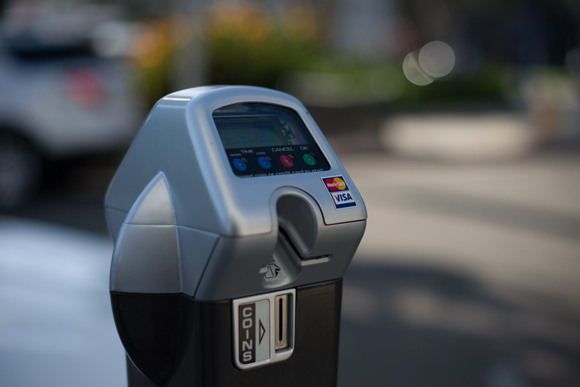 Should parking meters in Boystown be enforced until midnight? That's the controversial question the West Hollywood City Council will decide at its Monday night meeting.
The proposal has stirred up mixed reactions among businesses that will be most greatly affected. Some would rather see more parking spaces built, others fear the proposal is yet another sign WeHo is losing its urban feel, and a number of businesses worry their employees will now have nowhere to park.
"We've lost so many customers due to the parking situation," said Marta Knittel, an owner of the three-year-old Yogurt Stop at 8803 Santa Monica Blvd. at Palm Avenue. "People go to businesses that are easily accessible. Parking is the biggest problem in West Hollywood.
"People will just feed the meters," Knittel said. "The city needs to build more parking."
Yet others praised the plan, believing it will, in fact, create a more efficient flow of parking.
"Although counter intuitive, this plan will actually provide more efficient parking for our customers since the meters will have more turnover," said Darren Gold, chairman of the board of The Avenues: Art Fashion and Design district.
On Monday, if the City Council approves the proposal, the extended hours will likely start sometime in March.
In an attempt to increase turnover of street parking after 6 p.m., the city is proposing extending parking meter hours throughout the city. The city wants to push people intending to stay for several hours into long-term parking lots like the library parking deck, thereby freeing street parking for people wanting to make shorter stops.
Patrick DiLascia, owner of the PAR LA clothing boutique at 8250 Santa Monica Blvd. at Harper said, "Every day just after 6 o'clock [when meter enforcement currently ends], I see the same car parking on the street and it's still there the next morning."
David Cooley, founder of the popular gay nightclub The Abbey, feels it's another sign the city is becoming a major destination.
"Over the past decade we've seen free parking opportunities in the city decrease as the area has become more popular," Cooley said. "It impacts our employees, it impacts our customers but most importantly, it speaks to the vibrancy of our community."
Others bemoan the proposal as another sign the city is losing its urban-village feel.
"The city gets more like a big city instead of the little city we knew," said Larry Block, owner of the Block Party clothing store, located at 8853 Santa Monica Blvd. at Larrabee.
"Anything that restricts parking, I'm against," Mason said. "I'm not someone who likes a lot of government regulations. And this doesn't sound like a good idea."
Under the city's proposal, meters on major thoroughfares on the Westside of town (Doheny Drive to La Cienega Boulevard) would be enforced from 8 a.m. until midnight Monday-Saturday.
In the mid-city area (La Cienega to Fairfax Avenue), enforcement would run 8 a.m. until 10 p.m. Monday-Saturday.
On the Eastside (Fairfax Avenue to La Brea Avenue), meters would run 8 a.m. until 8 p.m. Monday-Saturday.
Meter hours on La Brea Ave., north of Santa Monica Blvd., will not be changed, but meters on La Brea south of Santa Monica Boulevard will be. Meters on Fairfax Avenue will not be affected.
Additionally, the proposal calls for meters to be enforced on Sunday from 11 a.m. to 8 p.m. (with a few exceptions on the Eastside). Currently, none of the meters in town are enforced on Sundays.
"The goal is to improve parking opportunities throughout the city," explained Jackie Rocco, the city's parking operations manager. "It's a way to ensure that the meters are serving the businesses. We want to make sure the most affordable and convenient spaces are available."
The city is basing this citywide proposal on its experience with Sunset Boulevard where meters have been enforced until 2 a.m. since 2001 (and will continue to be enforced until 2 a.m. regardless of whether this proposal passes).
Todd Steadman, executive director of the Sunset Strip Business Association, said that the 2 a.m. enforcement does have a positive effect on the Strip.
"Businesses on the Strip are happy with it," Steadman said. "There's always street parking. It encourages turnover. It encourages visitors to park on the street and employees to park elsewhere."
Employee parking is one of the biggest concerns about the proposal. Currently, many employees grab the metered spaces at 6 p.m. just before they go to work.
"I see my employees struggling every day with their cars. They have to go out every two hours to move their cars, even during the busiest times," said Marino Monferrato, general manager of Cecconi's, the Italian restaurant at 8764 Melrose Ave. at Robertson. "I understand the city wants to increase revenue, but it's a double-edged sword. It will create a movement of cars; but whose cars is it that will be moving?"
"Are my employees supposed to spend their breaks going to the meters?" said Block of Block Party. "Often there is just one person on a nightshift. Do I close the store while they go to the meter or add an extra person to the payroll?"
The city plans to create special parking permits for business employees to use at meters which are under-used after 6 p.m. Those under-used meters are on various side streets, on Beverly Boulevard and on San Vicente Boulevard between Beverly and Melrose Avenue.
The city is also trying to arrange for employee parking at the Pacific Design Center and Pavilions parking decks.
Many businesses were unaware of the employee parking plans when WEHOville spoke with them. Genevieve Morrill, president of the West Hollywood Chamber of Commerce, believes the city needs to put more effort into explaining the proposal, especially the employee parking permits, to the businesses.
"We want more outreach, more education," said Morrill. "There's a lot of positives about the plan, but the city is going to have to do more to explain it to the businesses."
The city has done several presentations to businesses since July. Keith Kaplan, president of the Weho-based Fur Information Council of America, was swayed after seeing the city's presentation to the Chamber of Commerce's Government Affairs Committee in mid-November.
"The city presented a well researched and intelligent plan," Kaplan said. "It will encourage turnover according to peak business hours and will prevent meter hogging."
Generating an estimated $1 million in additional revenue each year, the city plans to use that money for public safety efforts, something Morrill and others think is good.
"It'll be increased sheriff's patrols and private patrols like ambassador programs," said Morrill. "That would take the onus off the business communities for doing that."
For the first several months, warning citations will be issued rather than the $53 expired meter tickets.
"We won't start fining them right away," Rocco said. "We'll give people time to adjust."