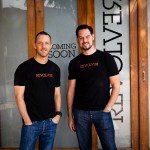 The latest iteration of the gay bar that anchors the corner of Santa Monica Boulevard and Larrabee Street in the heart of West Hollywood's Boystown is celebrating its first anniversary Saturday night.
Revolver, which opened on that corner on Oct. 26, 2011, is staging a celebration called "Under A Big Top." With a circus theme, it will feature go go boys, aerialists, contortionists and little guys with big muscles with ringleader and hostess Courtney Act and DJ Jasten King. Revolver will offer drink specials throughout the night.
Revolver, which took its name from its revolving door, opened in 1982, embracing the video bar craze fostered by MTV, which launched two years earlier. It featured a large video screen above the bar and a small back bar. And it usually was packed.
But Revolver's then owners encountered financial difficulties and went out of business in 2004. Trip Wilmot, a former Wall Street investment official, opened East/West bar in the space in 2005. An initial success, business slumped in 2011 because of the recession. Faced with landlord Golden West's plan to almost double the monthly rent to $16,000, Wilmot closed East/West. West Hollywood was left without an iconic video bar like Side Tracks in Chicago or The Midnight Sun in San Francisco.