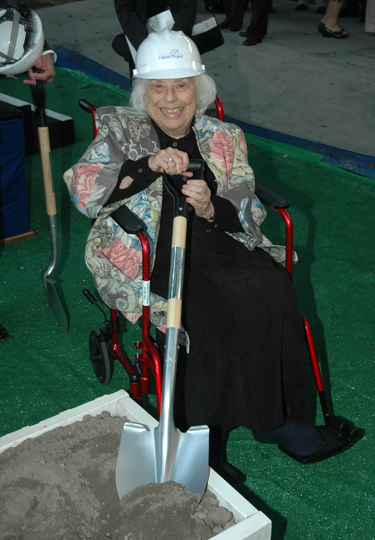 For 40 years, Rita Norton was the face of the West Hollywood Library. Come Monday, Norton, 92, will be commemorated for her service to the library with the unveiling of a plaque at the Friends of the West Hollywood Library bookstore.
From 1971 to 1993, Norton was the first face people saw upon entering the library. Working the front desk and serving as reference librarian, Norton helped thousands find the information and books they wanted in the tiny 5,000-square-foot original West Hollywood Library (which was demolished in September 2011 just prior to the opening of the city's new library building).
Following her retirement, Norton continued to be a prominent figure at the library, serving from 1993 to 2011 as the president of the Friends of the West Hollywood Library, a group she helped found.
During the 1970s, Norton made sure the library carried what few gay-related books were available. In the 1980s, Norton assured the library carried as much information as possible about AIDS, even going so far as to arrange a special computer link to the National Institutes of Health for people to access the latest AIDS information.
According to her daughter, Marcy, Norton's official title was "library assistant," but everyone viewed her as the one in charge. During periods when the library was between official librarians, Norton was the person who ran everything.
"Mom loved every minute of the job and doesn't understand why she's being honored for doing her job," Marcy Norton said. "I told her it's because of the way she did her job. She doesn't think that was anything special. She just thinks that was doing her job."
"Rita Norton has dedicated a lifetime of service to our public library and to the noble cause of literacy," West Hollywood Mayor Jeffrey Prang said. "The community owes a great debt of gratitude to Rita for her vision, leadership, and perseverance. It is a fitting tribute to honor her with a permanent plaque in the book store at the library that she worked so hard to bring to fruition."
Born in Norfolk, Virginia but raised in Chicago, Rita and her husband Raymond Norton moved to Los Angeles in 1958, living in the Carthay Circle area. They moved to Kings Road in West Hollywood in 1981. For the past 13 years, Norton has served as a member of the city's Senior Advisory Board.
The ceremony honoring Rita Norton starts at 5 p.m. on Monday in Auto Court area of the West Hollywood Library.