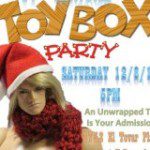 The AIDS Healthcare Foundation's 12th annual Toy Box party is this coming Saturday (Dec. 8) at WeHo Winter Wonderland.
That area, at El Tovar Place off Robertson Boulevard, gets transformed every holiday season into a magical spot for those sunny Southern Californians who wonder what winter might be like. This year, unwrapped gift will get you admission in Winter Wonderland, where you'll find free drinks and free photos with Santa himself. Parking is available in the adjacent West Hollywood Library parking garage.
The toys donated will bring Christmas to Southern California families affected by AIDS and HIV. They include clients of AHF, based in Los Angeles and the largest provider of healthcare to HIV/AIDS sufferers in the US, AIDS Project Los Angeles, Bienestar and the Whitter Rio Hondo AIDS project. AHF hopes to collect 100,000 toys this year.
The event, which begins at 5 p.m., is co-sponsored by the City of West Hollywood, which recognized the annual Toy Box party earlier this year as the non-profit event of the year.