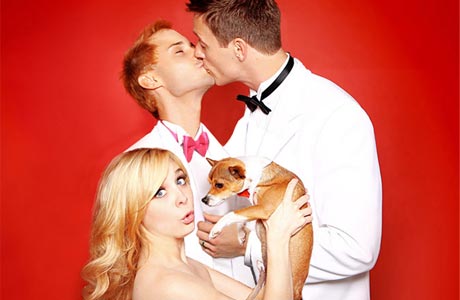 A different take on the newlywed sitcom, Husbands tells the story of two young men who wake up legally wed after a drunken night in Vegas.
Brady Kelly (Sean Hemeon), a baseball star, and Cheeks (Brad Bell), a tabloid darling, make a great duo. While getting married wasn't exactly the plan (they've only been dating for 6 weeks), they decide to stick it out since a quick divorce would make the fight for equality seem a little less worthwhile. After all, they may actually be soul mates. The web series follows the (ample and hilarious) mistakes the pair make as they navigate life as a newlywed couple, all amidst a media frenzy. As the show says, "They're doing it wrong. That's their right." A gay web series where you can get comedy and half-naked scenes of hunky Sean Hemeon all in one place, Husbands is a fun ride with sweet moments along the way. Created by Brad Bell and Jane Esperson.
In two seasons, the show has garnered more than 3 million views on YouTube. Naturally, it's been picked up by the CW. See the 3rd season and various promos at CWseed.com (links below will take you to the first 2 seasons).
Follow the series on Facebook.com/HusbandsTheSeries and on Twitter @TeamHusbands for updates.
[hr]
[hr]
Watch the First Episode: