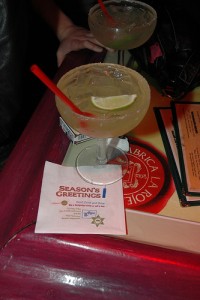 The City of West Hollywood is providing those residents who like to party hearty during the holiday season with some resources to reduce the likelihood of drunk driving.
The city will operate a free holiday shuttle along Sunset and Santa Monica boulevards from 8 p.m. to 3 a.m. Dec. 29 through Dec. 31. To promote the "Don't Drink and Drive" campaign, more than 180,000 napkins will be distributed to local restaurants and bars along Santa Monica and Sunset boulevards with the telephone number of the West Hollywood Cab Company.
City Getting Serious About Dog Poop Patrol
Attention you sidewalk scofflaws, the city is stepping up its poop patrols. Mayor Jeffrey Prang has announced that the city's Department of Animal Care and Control will begin strictly enforcing ordinances requiring that dog waste be picked up and that dogs be kept on a leash in public. Walking your dog without a leash is a violation of the Los Angeles County Municipal Code, which is enforced in West Hollywood. Violators are fined $250 for the first offense, $450 for the second offense, and $850 for the third. Leashes are also required in public parks, except for the William S. Hart dog park on De Longpre near North Flores.
Jenkins Honored as Among State's Top 25 Municipal Lawyers
The Daily Journal, California's leading legal publication, has named West Hollywood City Attorney Mike Jenkins and Asst. City Attorney Christi Hogin as among the state's top 25 municipal lawyers.
"West Hollywood is not the kind of city that backs away from a challenge.  From the beginning, city leaders have sought creative solutions to the challenges of local government and the city has been lucky to have Mike's excellent legal services all along the way," said Mayor Jeff Prang. "We expect much of our lawyers, and Mike and Christi always deliver."
Jenkins has been with the city since incorporation.  Aside from providing institutional continuity with respect to legal matters, Jenkins likes to tell stories of the early days of cityhood.  "Some of my fondest memories are shared with the activists and leaders in this city," Jenkins said "Most of my professional career has included working with West Hollywood to solve or avoid its legal problems.  It is the work I am most proud of."
Hogin worked with the City from 1988 to 1994 and returned in 2001.
"I grew up on the East side of West Hollywood, attended the local public schools, memorized the street names along Fountain between Highland and Fairfax," Hogin recalled,  "Then as a young lawyer in the late 80s, early 90s, I got my start covering planning and rent commission meetings.  This town is home."