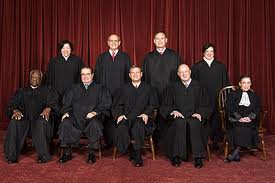 The U.S. Supreme Court has agreed to consider the constitutionality of California's ban on same-sex marriage and a federal ban on providing benefits available to heterosexual married couples to gay married couples.
The court's announcement that it will take up the matter has been eagerly awaited by both proponents and opponents of the bans, each of which hopes the court's decision on Proposition 8, the California ban, will apply across the country. To date, nine states — Connecticut, Iowa, Maine, Maryland, Massachusetts, New Hampshire, New York, Vermont, and Washington — as well as the District of Columbia and two Native American tribes, permit same-sex marriage. However, 30 states have enacted constitutional bans on same-sex marriage and nine states have enacted statutory bans.
Proposition 8, approved by California voters in a referendum in 2008, effectively bans same-sex marriage in the state by specifying that "only marriage between a man and a woman is valid or recognized in California." Prop 8 overturned a state Supreme Court ruling that same-sex couples have the right to marry. It does not affect domestic partnerships or same-sex marriages performed before Nov. 5, 2008.
However, U.S. District District Court Judge Vaughn Walker overturned Proposition 8 in 2010, saying it violated the due process and equal protection clauses of the U.S. Constitution. His decision was affirmed by the Ninth Circuit Court of Appeals. That court stayed its decision pending a decision by the U.S. Supreme Court on a petition by Prop 8 supporters to overturn its ruling.
A provision of the federal Defense of Marriage Act, signed into law by President Bill Clinton in 1996, bars the government from granting health and pension benefits and favorable tax treatment to same-sex couples.
The U.S. Supreme Court's current term began Oct. 1 and will conclude Oct. 7, 2013. The court typically announces decisions on cases under consideration by early July.