La Brea Avenue in West Hollywood is undergoing a transformation. Abuzz with construction, five projects are happening within a five-block stretch of La Brea between Fountain Avenue and Willoughby Avenue.
When all five projects are completed, they will add 582 residential units and 84,400 square feet of retail space to the area, plus countless numbers of cars to the already perpetually congested street. In fact, West Hollywood Patch readers in May voted the La Brea-Santa Monica Boulevard intersection the "worst intersection" in town.
Here's a rundown of the five projects – four will be new buildings and the other a refurbishment of an existing building (with a smaller new building being added).
[hr]
La Brea/Fountain
[hr]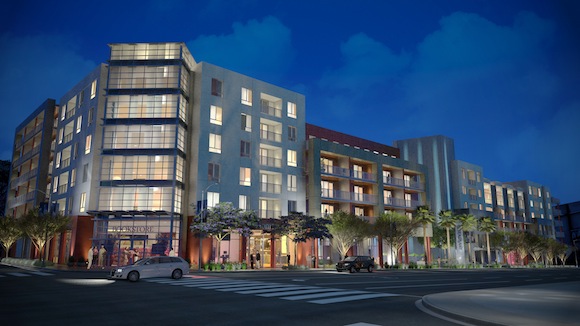 The old Jon's supermarket, a longtime favorite of the Russian community living on West Hollywood's eastside, closed its doors in May 2011 with demolition of the building following shortly thereafter.
The Monarch Group is building a six-story, mixed-use project with 18,000 square feet of retail space and 187 apartments, 38 of which are affordable units. According to Jeffrey Seymour, a spokesperson for the project, the estimated completion date is December 2013.
Seymour reports that the two-level underground parking is completed and construction crew members are now parking inside the structure, something that has come as a relief to residents competing for parking on nearby streets.
No retail tenants have been announced yet.
[hr]
La Brea/Lexington
[hr]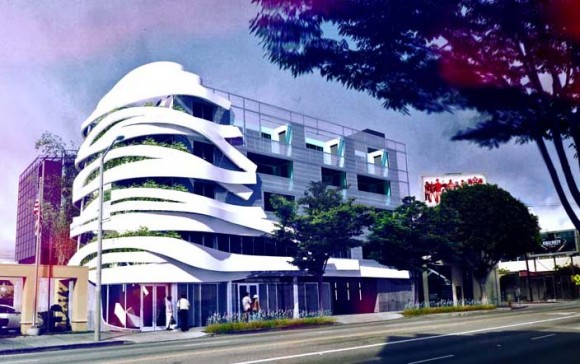 Immediately north of the McDonalds and just a few doors south of Lexington Avenue, the West Hollywood Community Housing Corporation (WHCHC) is constructing the Courtyard at La Brea, a five-story 32-unit building of affordable housing. Each unit is one-bedroom and will be approximately 600 square-feet, reports Robin Conerly, the executive director of the Housing Corp.
The site previously housed the Discover Green showroom (specialized in flooring) in a single-story building that was demolished. The Courtyard consists of two five-story towers surrounding a courtyard open on the southern end (hence the name). Construction began in June 2012 with an estimated completion date of September 2013.
Residents of the new affordable building will be determined by a lottery. Applications for that lottery will be available starting in June 2013, available on the WHCHC website, in the Plummer Park Community Center and at Jewish Family Services. The project is being paid for through federal HUD (Housing and Urban Development) funds and the City of West Hollywood's Affordable Housing Trust Fund.
[hr]
La Brea/Santa Monica
[hr]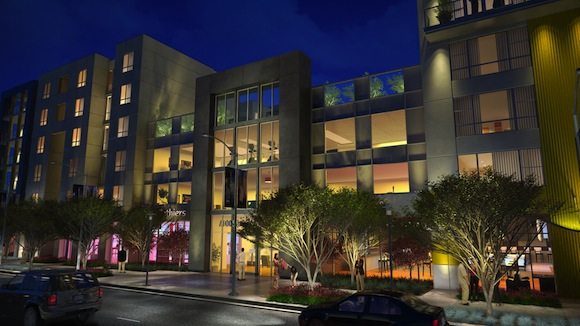 The former Carl's Jr. location on the northwest corner of the busy intersection was a magnet for fast-food lovers and, reportedly, drug deals. But the building came down last fall as construction started on a six-story, mixed-use project with 12,800 square-feet of retail space and 184 apartments, 36 of which will be affordable units.
The Monarch Group is developing this project, scheduled for completion in March 2014, according to Seymour. The two-level underground parking is nearly complete with construction crews scheduled to start parking there starting in late January/early February 2013.
No retail tenants have been announced yet.
[hr]
La Brea/Romaine
[hr]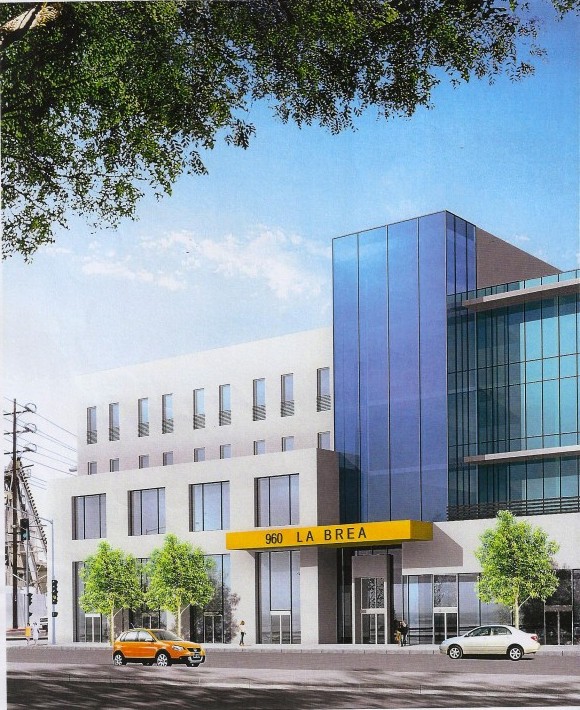 This abandoned 44,500 square-foot industrial building on the southeast corner of the intersection (diagonally across from the Best Buy) dates back to 1933, having housed many different businesses over the years, including an auto dealership, an art gallery and a framing studio.
This building is being refurbished for 11,500 square-feet of retail space on the ground level and 33,000 square-feet of office space on the second through fifth floors.
Additionally, the adjacent single-story building immediately to the south was demolished to make way for a new building consisting of 8,600 square-feet of ground-floor retail and 134 parking spaces on three levels above the retail space.
Renovations started in December 2011 and should be completed by March 2013, said Ben Soleimani, the president of BMB Investment Corp, which is developing the project.
No tenants have been signed yet, but Soleimani hopes to rent the office space to creative and/or production companies.
BMB also owns properties on Melrose Avenue between La Cienega and San Vicente boulevards. Included in those Melrose properties is the proposed new Restoration Hardware showroom building at Westmount Drive and Melrose (across from Urth Café).
[hr]
La Brea/Willoughby
[hr]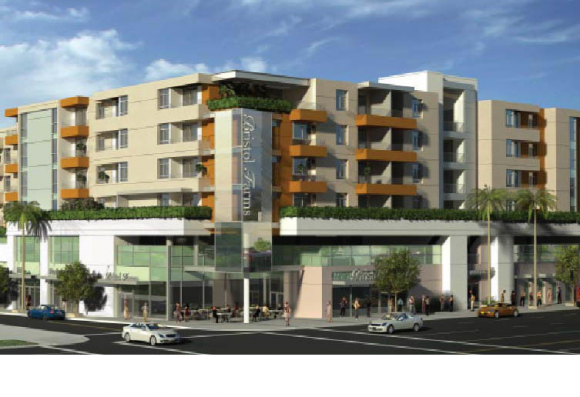 The most controversial of the five developments, this project on the northwest corner of the intersection is known as the La Brea Gateway (not to be confused with the Gateway Center, home of the Target store, a block to the north).
The former home of the KCOP-Channel 13 studios, the building was abandoned in 2003 when KCOP moved to the Paramount Studios lot. In the years since then, the facility has been used occasionally by production companies, but mostly served as a unofficial "hotel" for transients and homeless.
The Martin Group plans to build a four-story, mixed-use project, consisting of 33,500 square-feet of ground floor retail and 179 residential units (10 percent which will be affordable units), plus two levels of subterranean parking.
While the existing buildings on the property were demolished over the summer, a start date for construction is not known as a spokesperson for the project declined to be interviewed.
A lawsuit over the project ended in early December according to Lucille Saunders of the La Brea-Willoughby Coalition, which fought to downsize the project. As a result, La Brea Gateway, which the Los Angeles City Council approved in 2009, was reduced in height from seven stories (75 feet height) to four stories (48 feet height) and in density from 219 units to 179 units.
Saunders reports Martin Group has also agreed to widen narrow Willoughby Street by 5 feet from La Brea to Detroit Street.
A Martin Group bulletin reports that Sprouts Farmers Market, an upscale grocery store similar to Whole Foods, will be a tenant.