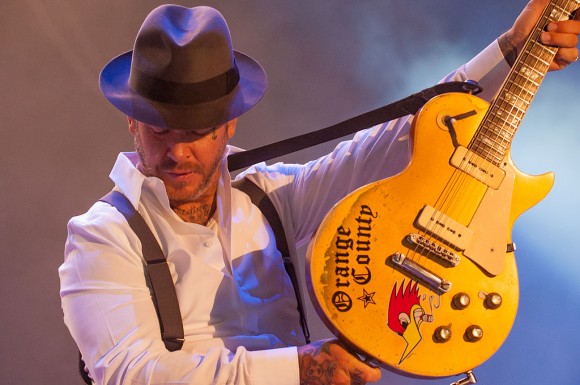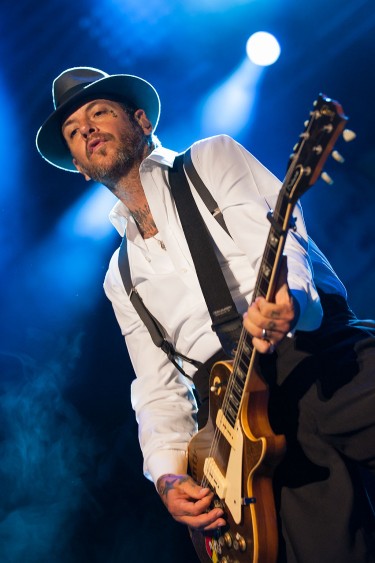 As part of the House of Blues' 20,000 shows in 20 months, local yokels Social Distortion grace The Strip this week, playing three sold-out shows. Melding rough and tumble barfly lyrics with juke-joint rhythms, the band is fronted by lovable deadbeat and sneering heartthrob, Mike Ness, who is always a blast onstage.
Ness has been a mainstay in the working class music scene for more than three decades and is still going strong. He reaches new audiences while breaking down corporate rock and roll with every tour. Doing things his way.
Social Distortion plays new songs to live audiences long before a studio recording ever hits the market. On the new album, "Hard Times and Nursery Rhymes," many songs were fine-tuned for years during live performances before they were recorded and released as studio versions.
With a carousel of backing members, Ness and Dennis Danell have been the band's two most consistent members. (Sadly, Danell passed in 2002 from an aneurysm. Jonny Wickersham of U.S Bombs and Youth Brigade replaced him on guitar.) Ness is still carrying the torch in Danell's absence.
Social Distortion began its journey as a punk band in 1979 in Fullerton, with the singles "Mainliner," "Playpen" and "1945." Social D tore it up with the likes of The Adolescents, Youth Brigade, D.O.A., Agent Orange, and the rest of them. The town became an epicenter for the American Hardcore scene.
In 1983, Social Distortion began looking in a new direction, exploring more Blues, Country, and Classic Rock. They embraced the influences of Johnny Cash, Johnny Thunders, The Rolling Stones, The Ramones and Hank Williams within their compositions.
The album "Mommy's Little Monster" was recorded in a single session. It maintained a fast tempo with punk rock venom, yet some choruses were more melodic. On it, Social Distortion began to move more toward a sound fans recognize today. The song "Another State of Mind" and the documentary of the same title, gained them national notoriety among the punk scene.
By 1985, Ness had fallen off the deep-end, spiraling into a heroin-induced crime spree that landed him in jail and rehab on more than one occasion. Rumors surfaced that some bands refused to tour with him because of his tendency to break and enter into their dressing rooms.
1986 brought about the band's first comeback album, "Prison Bound," with a clean frontman. On it, they clearly departed from a hardcore punk sound and moved into the realm of "Cowpunk," With obvious Cash and Stones influences.
It seemed that Ness was on the right path, finally — it was really paying off by 1990. Their self-titled album gained them their most accolades. Their major key sound was even more clearly defined with "Story of My Life" and "Ball and Chain."
By 1992, with "Somewhere Between Heaven and Hell," every radio station in every major city knew their name, playing singles like "Bad Luck," "Cold Feelings" and "Born to Lose." They had moved from the shadows of the underground and into the annals of music history.
With their sound now securely in place, Social D and Ness have constantly toured, while releasing solid albums every few years to a mass of devoted fans; playing only basements and dive bars in the beginning, now selling out auditoriums, and even entire stadiums.