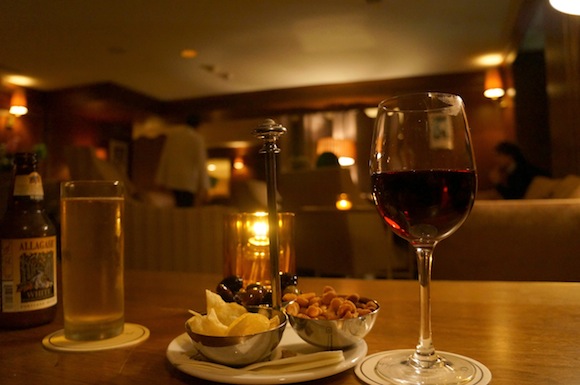 [dropcap]M[/dropcap]any of us work long hours, drive among angry Angelenos and live for cocktail hour. Sure, there are plenty of bars in West Hollywood, some more well known and packed than others.  But if you're looking for a spot that's a little more upscale and inventive, with a drink list that will make you swoon, a hotel bar might be just what you need. And not everything worthwhile resides on Santa Monica Boulevard or the Sunset Strip. So, we sought out the most unique hotel bars in the area, spent time with the beautiful people and let the wine, absinthe and liquor warm our veins.
[hr]
The London
[hr]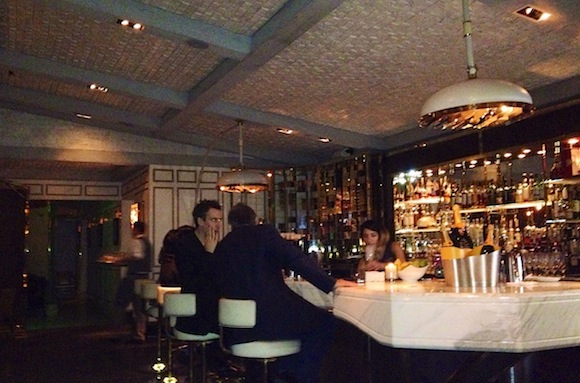 Now that you've filled your tank with gas, navigated the mean, honking streets leading to up to West Hollywood and paid $15-plus for parking, you wander into a swank hotel lobby where tourists are checking in, asking for directions and loitering. At this point, a bartender's voice is your only salvation. "What can I get you," asks a sleek cocktailian at The London, tucked into the corner of San Vicente and Sunset Blvd. On the drink menu, "Penicillin" might cure your ails as you slide into a chair near the marble bar. J&B Scotch, lemon, ginger, and mist of Laphroaig warm your insides.
Handsome middle-aged businessmen are wrapped up in the latest stock prices, young women in slinky dresses giggle quietly over wine. It's dim, high-end, immaculate, expensive.
When your glass is empty, a hostess promptly appears for a refill. After paying the tab you await the young valet boy as dozens of teenagers holding cameras hover over a nearby wall, itching to see a celebrity. To their dismay, there you are, climbing into a Buick LeSabre, lurching away.
[hr]
Butterfly Bar at Petit Ermitage
[hr]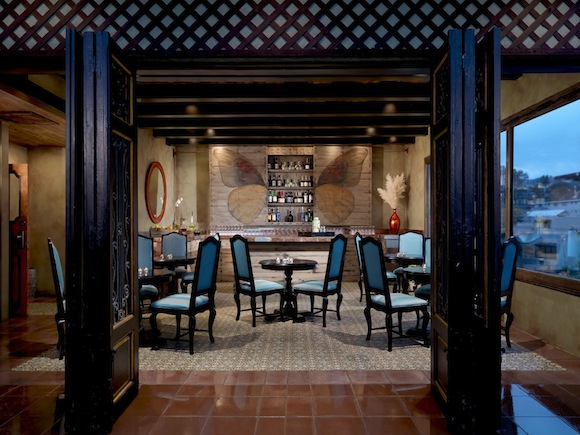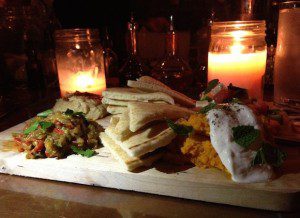 In a more private setting, off the beaten path sits Petit Ermitage, an 80-suite hotel on Cynthia Street, at Larrabee, that blends delicately into the neighborhood. Upon first glance, the exterior could be mistaken for a stylish apartment complex. Inside, the lobby is petite, quaint, adorned with European antiques, original artwork and an empty birdcage. Security detail guarding the elevator checks names, and permits or denies entry. Upstairs at the private Rooftop Club and Butterfly Bar, both reserved exclusively for hotel guests and their friends, "Spirit Master" Brian Stewart works his magic, guiding you through a fog of liquors, mists, fruits and more.
The vibe is free-spirited, charming, charismatic, indulgent and warm. During certain hours of the day, visitors can even go topless at the rooftop salt-water pool. "The privacy of our guests and the safe-keeping of their stories is of the utmost importance," says Kristen Alexandra Daie, Executive Director at Petit Ermitage. "It also allows our visitors to be comfortable and uninhibited while they are with us." It's a safe zone indeed… if you can get in.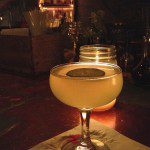 The cocktail list at the Butterfly Bar has recently been revamped, including such libations as the "Eastsider" and "Infante," concoctions mixed with gin, cucumber, lime, mint or tequila, rose water and nutmeg. "They are dangerous," adds a server, "delicious but high in alcohol."
After a few drinks and a charcuterie or Mediterranean platter, you might stumble upon the garden/butterfly and hummingbird sanctuary or into one of the whimsical bathrooms: think French, 20s, vaudeville.
[hr]
Bar 1200
[hr]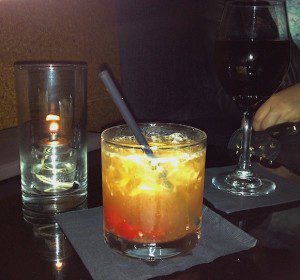 Also off the Strip, on Holloway Drive, at Alta Loma, is Bar 1200 at the Sunset Marquis. As I sip a $15 ginger-ale infused Old Fashioned, Joan Jett stares down at me from a frame on the wall. She's hunched over a white comforter in one of the hotel bedrooms, an iconic scene.
But it's 10 p.m. on a Thursday night and I'm one of only five patrons at the bar. The staff isn't particularly helpful, the drinks not particularly dazzling. It's not unusual to see musicians here, but don't be disappointed if you end up waiting for Marilyn Manson's crew (infamous for popping in from time to time) in an empty bar with a stiff drink and $20 valet bill.
[hr]
RH at the Andaz
[hr]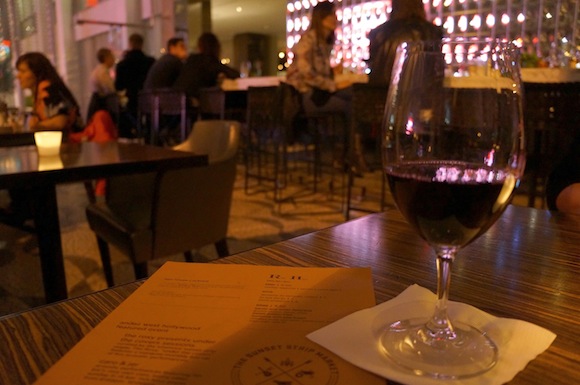 Now that you've done the classy, under-the-radar thing, it's time for some mayhem. RH at the Andaz, a Hyatt-owned hotel on the Sunset Strip, at Kings, hosts happy hour until 9 p.m. The crowd is mixed with locals, travelers, and barely legals. It's bright compared to the other bars where you can barely see your neighbor. This may or may not be a good thing. Waiters don't scold you for whipping out a camera or give you the stink eye for wearing jeans. And you don't need to be an A-lister to get decent service. The bar area is small, but flows into the restaurant with no dividers, giving it the feel of more space. It's not packed, but busy enough. The house wines are solid, especially for the price and it's close to dozens of other bars in walking distance.
[hr]
Tower Bar
[hr]
Across the street from RH is Tower Bar on the lobby level of the Sunset Tower Hotel. It's not uncommon to see James Van Der Beek stroll in for dinner with his wife, or Diane Kruger sipping martinis, laughing wildly with her group of gays. In nearly the same instant you plop down on one of the beige couches in the lounge area, you are presented with a trio of snacks — red and green olives soaked in oil and thyme, potato chips and roasted peanuts. You'll need it after glancing at the menu prices. But in this city, what classy bar is affordable?
[hr]
Bar Marmont
[hr]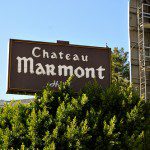 Lastly, there is Chateau Marmont, what dreams are made of, and crushed by. I was forbidden from speaking about the hotel's lobby bar. I should focus on Bar Marmont, the official bar of the hotel. But Bar Marmont doesn't have the same je ne sais quoi as the lobby bar, the same intimate, old Hollywood feel. "It's not open to the public," snips the bar's creative director. However, if you've slipped in with a friend, ordered extravagantly priced drinks while glaring at a Selma Blair look alike or fixed your hair in the retro bathroom, you know that's a lie. Yes, it might only be open to certain members of the public, however, we are not sure about the selection process. It might have something to do with appearances and social status.
[hr_dotted]
Los Angeles is all about exclusivity, celebrities, people who think they should be treated as celebrities, and what's hot right now. Every club, every bar, and every restaurant has its moments, some longer than others. Skybar was once the hottest thing on Sunset Boulevard, then Keyclub, Viper Room, and the list goes on.
Hotel bars are a special breed, apart from the rest, with endless possibilities. They are more static because, let's face it, every hotel needs a bar. An innocent drink at the Roosevelt can lead to a 5-course meal and overnight stay with some hot rockstar – or a man you mistaken for one.
But it's Hollywood after all. Hopefully West Hollywood. Hopefully a hotel bar. And anything can happen.
[hr]
Bar Essentials
The London Bar: 1020 North San Vicente Blvd., West Hollywood, CA 90069
(310) 854-1111.  $10 valet.  The London Bar has live music on select nights and the "London After Five" happy hour with $5 cocktails and tapas.
Petit Ermitage Butterfly Bar: 8822 Cynthia St., West Hollywood, CA 90069
(310) 854-1114. $15 valet. Must be a guest or friend of a guest to enter.
RH at Andaz: 8401 West Sunset Blvd., West Hollywood, CA 90069
(323) 785-6090. $7 valet. Happy hour is from 5-9pm and includes wine ($6-7), bottled beer ($3.50) and small bites ($4.50).
Bar 1200 at Sunset Marquis: 1200 Alta Loma Road, West Hollywood, CA 90069
(310) 657-1333. $20 valet. Cocktails are seasonal and incorporate fresh ingredients including Fresno chile, egg white froth, nutmeg, lemon, lime and more.
Chateau Marmont: 8221 Sunset Blvd., West Hollywood, CA 90046
(323) 656-1010. $12 valet for 3 hours. No happy hour in the lobby bar.
Tower Bar at Sunset Tower Hotel: 8358 West Sunset Blvd., Los Angeles, CA 90069
(323) 654-7100. $7 valet. No happy hour.