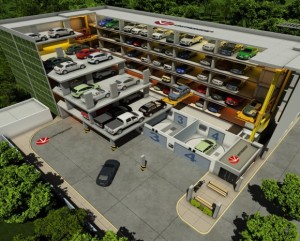 The West Hollywood City Council approved plans to go ahead with construction of the automated parking garage behind City Hall at its meeting on Monday night.
The $16 million "robo-garage" is said to offer a valet-like experience where people leave their cars and the automated system stores the vehicles in parking berths using motorized lifts, conveyers and shuttles. Using state-of-the-art computerized technology from Unitronics, an Israeli firm specializing in automated parking structures, the structure will have space for 200 cars, a significant boost up from the 66 currently available in the City Hall surface parking lot.
Council authorized staff to proceed with the construction documents phase of the project and to advertise for construction bids.
The majority of the 14 people speaking during public comment were in favor of the garage, saying it would be good for the mid-city area, which routinely has parking shortages.
Resident Mark Lehman called it "innovative and efficient," and said it would stimulate the economy in mid-city.
Genevieve Morrill, president of the West Hollywood Chamber of Commerce, called it "fabulous, futuristic and forward thinking."
Commercial real estate broker Chris Bonbright called the automated garage "visionary," and said it was more efficient than a standard parking deck.
Three people spoke against the project.
Resident Tom DeMille, who is a candidate for City Council in the March election, questioned the $16 million price tag. The money could be better spent on other services for residents, he said.
Resident Cathy Blaivas was concerned about the lack of meeting rooms, noting that the two meeting rooms in City Hall were too small for large meetings.
Mayor Jeff Prang said the automated garage would be less expensive than a conventional parking structure, and that the original plans never called for community meeting rooms but, instead, for more office space for City Hall staff.
Councilmember John Duran said the structure would provide parking for City Hall employees and nearby businesses.
"We have two community meeting rooms in City Hall already. The fact we're getting 200 new spaces in the mid-city is a great relief to the community," said Duran.
Duran also said the residents wouldn't have to pay back the bonds, that revenue from use of the structure would pay the bonds.
Councilmember John Heilman called the project a "win for the community."
"Land that is so expensive in this area, if you have to use all that land for parking, it's not using the land in the most effective way," Heilman said. "Allowing the parking in a structure like one that's proposed behind City Hall is so much more efficient. I think it really is the wave of the future."
Construction will start in Spring 2013 and be completed in Summer 2014.