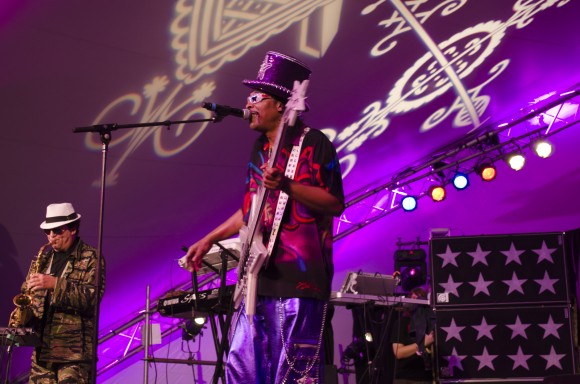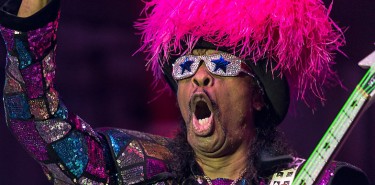 Listen up all you Funkateers, Bootsy Collins is bringing the "Funk U" to the Key Club Thursday night (Dec. 20), with openers Tia P and NoFace. This melodic cosmonaut has long been a prominent member of the funk community, attributing his trademark "space bass" style to Jimi Hendrix, enlisting effects pedals and solo-driven funk grooves.
Bootsy Collins formed The Pacemakers with older brother Catfish in 1968. Soon after, they were re-named the J.B.'s, and toured as the backing band for the founding father of funk and soul, James Brown.
While a member of the "original" J.B.'s, Collins was professionally forged by Brown. Collins played challenging bass lines on songs like, "Get Up (I Feel Like Being a) Sex Machine," "Super Bad," and "Soul Power."
Brown also taught Bootsy the value of the "one," the first beat of any musical measure. It's also referred to as "beat one" or the "downbeat." In a four-count musical measure, typically the 2nd and 4th count are accented. Brown found his sound by putting it on the 1st and the 3rd instead. This accent change is what makes funk so infectious. By jumping the gun, it catches you off-guard, getting your body in motion. Leaving your hips no choice but to groove.
After he cut his teeth on the Brown circuit, Collins joined the pre-existing act George Clinton and the Parliament-Funkadelic, named after a cigarette brand. With P-Funk, he explored his own style, free to venture outside of the rigid downbeat formula that Brown pioneered and brought mainstream.
P-Funk might be the most famous funk band in history. The band offers a full experience at its live shows, with costumes and massive props, like giant flashlights and spaceships — you get the point.
The band takes its influence from Hendrix, Sun Ra, Frank Zappa, Sly Stone, and Screamin' Jay Hawkins, among others. Its countless hits include "Give Up the Funk (Tear the Roof Off the Sucker)," "Maggot Brain," "Atomic Dog" and "Flash Light."
The P-Funk is still active with Collins as a proud member, despite his many side projects. He contributed vocals, along with Q Tip, to 1990's radio hit, "Groove Is In The Heart." Bootsy's Rubber Band was the backing band for Deee-Lite's world tour. He was also inducted into the Rock and Roll Hall of Fame with Clinton in 1997.
Collins' latest offering, his 13th studio album, is titled "Tha Funk Capital of the World" and is influenced by his mentor, James Brown. Guest vocalists range from funk masters like Bernie Worrell and the late Catfish Collins (his older brother), to civil rights activist Al Sharpton, and other celebrity pontificates like Samuel L. Jackson, Ice Cube and Snoop Dog.
The album's a success. It's certainly funky. And you'll have a good time, though I could pass on a few of the tracks, mostly the slow jams. "Stars Have No Names" could be a New Edition song. Or a B-side on an Outcast record. But let's be clear, Bootsy does it best, and he did it first.
The aptly titled "The Jazz Greats" is a tribute to the most amazing trumpeters and scat singers in history, and is probably my favorite. The Hendrix-inspired "Mirrors Tell Lies" is also memorable. It contains audio samples from the guitar god's "Room Full of Mirrors."
Many tracks are ganja-driven, with titles like "Kool Whip" and "Yummy, I Got The Munchies."
If good vibes and great tunes are what you crave, Bootsy has got you covered. Come see the living legend, and enjoy the people watching.