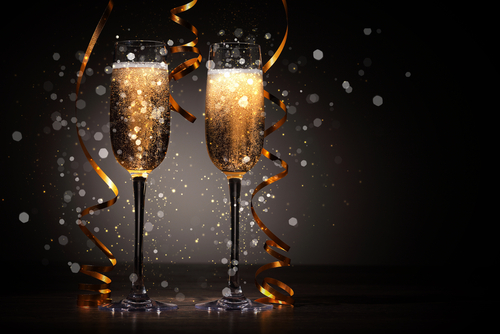 [dropcap]T[/dropcap]he holidays can be a lonely time, especially for many members of the LGBT community. Many of us have complicated relationships with our families, and oftentimes members of our chosen families dutifully make the trek back to the East Coast cities and Midwestern towns of their youth, leaving the streets, bars, and cafes of West Hollywood feeling slightly empty.
Nevertheless, the weeks leading up to Christmas and New Year's Eve offer a cornucopia of festivities and adventures for the LGBT crowd.
For many, snowed in airports, hideous sweaters, and awkward encounters with rarely seen family members can make us yearn for the End of Days. But this year the world might actually end (though … probably not).
Here is your gay-by-day party planner from Friday, Dec. 21 to Tues., Jan. 1:
[hr]
Friday, Dec. 21
[hr]
According to astronomers of the ancient Mayans, Dec. 21, 2012 at 9:20 p.m. marks the culmination of a 5,125-year cycle that will either usher in a new era of spiritual enlightenment, or the end of the world as we know It.
Either way, the city is observing it in the traditional WeHo way; with awesome parties.
A street celebration will be held on Larrabee Street, between Eleven Nightclub and Revolver Video Bar, featuring the musical stylings of DJ Keith Jacobsen, pre-apocalyptic giveaways and a performance by Derrick Knight. All of it will be presided over by host "Mamma" Worthie Meacham and the very funny ANT.
Afterward, head out to The Abbey, Eleven Nightclub, Fiesta Cantina, Micky's, Revolver, or the Yogurt Shop for post-apocalyptic go-gos, Mayan margaritas, and other End of the World specials  (assuming the world doesn't end at 9:20 p.m.)
The street party runs from 8 p.m. – 10 p.m., with no cover. Bar covers and specials vary.
[hr]
Saturday, Dec. 22
[hr]
If you wake up on December 22, and haven't been killed in a global ragnarok or transformed into some kind of non-corporeal energy being, consider heading over to Hamburger Mary's (8288 Santa Monica Boulevard at Sweetzer), where that sultry and stunning mistress of drag, Calpernia Addams, will host her weekly entertainment extravaganza, Goddess, with her trademark wit and style. Calpernia and her hand-picked cast of stunning live singers, burlesque dancers, comedians, and drag performers (decked in gay apparel, no doubt)  will fill your heart with with the holiday Spirit.
The show begins at 9 p.m. with a $5 cover, and $5 drink specials.
[hr]
Sunday, Dec. 23
[hr]
On Dec. 23, Santa's little helpers Mario Diaz and Justin David once again join forces to deck the halls of The Eagle LA  for a yuletided edition of Silver Lake's naughtiest party, Big Fat Grunt (BFG). DJ's Aron Elvis and Riley More provide a sexy holiday soundtrack for jingling and mingling, while the BFG Go-Go Brigade stands ready to shimmy up and down any chimney in need. Photo Boy Jimmy will be conducting his traditional photo contest and good little elf Adam Pardy will be offering free Christmas buzzcut haircuts (high and tight). All tips will be donated to a worthy cause.
The event runs from 3 p.m. to 9 p.m., with a $5 cover. The Eagle LA is at 4219 Santa Monica Blvd., in Silver Lake.
[hr]
Monday, Dec. 24 – Christmas Eve
[hr]
'Tis a night when all the boys and girls on Santa's "nice" list go to bed early, to dream of sugar-plums and stockings full of toys. But the rest of us will be at Bar Lubitsch for "It's a Jewish Christmas." The night includes a buffet laden with Chinese food (the traditional fare of Jews at Christmas time), a viewing of Woody Allen and Sacha Baron Cohen films, late-night dancing and a cut-throat game of Strip Dreidel; yes, the communist-kitsch covered halls of Bar Lubitsch are the perfect place to spend Christmas Eve. While not a gay event per se, this event promises to be the most fun you can have on Christmas Eve, without standing under the mistletoe, of course.
The event begins at 8 p.m. Tickets start at $5. Bar Lubitsch is at 7702 Santa Monica Blvd., at Spaulding.
[hr]
Christmas Day
[hr]
Christmas! If you're unable to make it to your mother's house for Christmas dinner, but would still like to get drunk while someone else cooks, head over to Fiesta Cantina for an all-you-can-eat Christmas dinner, which'll only cost you $6.95, starting at 4 p.m. on both Christmas Eve and Christmas Day.
Fiesta Cantina is located at 8865 Santa Monica Blvd., at San Vicente.
[hr]
Wednesday, Dec. 26
[hr]
After you've schlepped down to The Grove to return that ugly sweater and/or complete boxed set of "Will & Grace" you received from your well-intentioned parents (no? just me?), head over to Eleven Nightclub on Dec. 26 for Comedy Happy Hour. VJ Grand Smith will drive away the Christmas carols from your oversaturated brain with comedy clips, song parodies, and top 40 music videos while you feast like a king on Eleven's $5 happy hour menu.
The event runs from 5 p.m. to 8 p.m., with $5 well cocktails, beer and wine. Eleven Nightclub is located at 8811 Santa Monica Blvd., at Larrabee.
[hr]
Thursday, Dec. 27
[hr]
Now, it's right about when "recovering from X-mas" starts to bleed into "gearing up for the New Year," and if you are anything like me you'll have a gingerbread village-worth of Christmas cookies and seasonal sweets to work off before getting to 2013.
So why not shake off some of those extra holiday inches on the dancefloor at Los Globos for the LA is Burning Vogue competition, hosted by Miss Barbie-Q (a queen who is always serving up "sweet and sassy realness"). The competition has been fierce all year, but this will be the battle for the Gold Cup of 2012.
Doors open at 9 p.m. with an $8 cover. The event will take place at Los Globos Nightclub, at 3040 W. Sunset Blvd., in Silver Lake.
[hr]
Fri.-Sun., Dec. 28-30
[hr]
Rest up.
[hr]
New Year's Eve
[hr]
Arguably one of the gay High Holy Days (along with Pride and the Folsom Street Fair), NYE is a time to let go of the old, welcome in the new, set goals for the coming year, and, of course, party your pants off.
After a relatively sleepy post-Christmas week, WeHo explodes back to life with a sudden burst of champagne and sparklers. Just about every club has planned a special evening: The Abbey is bringing Latin flavor to NYE with Havana Nights, Eleven Nightclub is serving a more traditional NYE of dinner and cocktails, while Rage presents a special NYE edition of its popular Asian dance night, GAMeBoi.
But two events in particular stand out.
If you are looking for a low-key party, head down to FUBAR (7994 Santa Monica Blvd., at Laurel), where go-go stud Greg McKeon and Jonny "The Gay Pimp" McGovern, ring in the New Year. Cheap, easy and sleazy. There will be low-priced cocktails, naughty go-go dancers, and plenty of fellas looking to start their New Year right. There will be no cover and a complimentary champagne toast.
If you want a little more glitz and glamour to usher you into the New Year, check out Golden NYE 2013, from Luke Nero and Andres Rigal, the producers of Rasputin, SummerTramp, and the sadly defunct Mr. Black.
DJ's Josh Peace and Nelstar will provide beats on the main dance floor, the always-glamorous Phyllis Navidad will hold court on the patio, and BJ Panda Bear will keep the basement nice and cozy. A variety of VIP packages are available, and a solid-gold dress code will be in effect.
The event will be held at The Robertson, at 665 N. Robertson, at Santa Monica.
Tickets begin at $10, and doors open at 9 p.m.
[hr]
Tuesday, Jan. 1
[hr]
No matter which WeHo den of vice and debauchery you choose to spend the last hours of 2012, the morning brings not only hangovers, but a new year and a fresh start.
So rather than spending the day in bed trying to piece things together, why not get up early, shake off the haze of champagne and celebration, and head to Runyon Canyon for some morning yoga. Free classes are held at 8:45 a.m., 10:30 a.m., and 2 p.m.