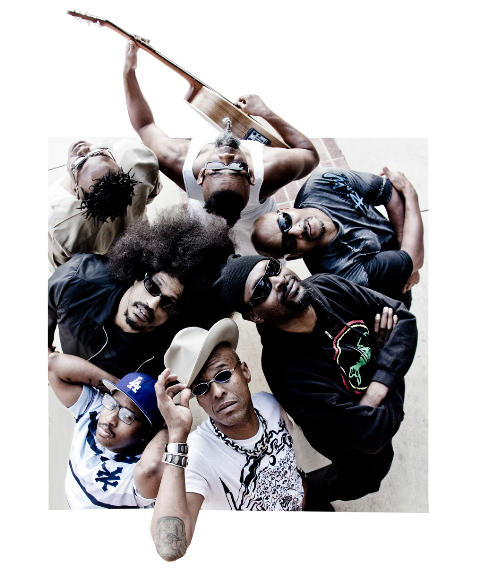 This Friday (Dec. 28), if you are among the few still in town and looking for a fun night out, consider catching the cult phenomenon Fishbone at Crazy Glue XXX-Mas Party, along with Quinto Sol, Beardo, C-Money, and the Players Inc. at the Key Club.
In 1979, John Norwood Fisher assembled his bandmates while they were still in high school in South Los Angeles. By graduation, they had inked a deal with Columbia, and were hanging with the likes of the Red Hot Chili Peppers and Thelonious Monster.
By 1985, Fishbone gained mass appeal with an eponymous EP, treating the world to a few classics: "Lyin' Ass Bitch," "Ugly" and "Party at Ground Zero." In 1987, the band made a cameo in the beach blanket revival picture "Back to the Beach," which featured "Jamaica Ska" on the soundtrack. 
Effectively blending American ska, funk, punk, rock fusion and soul, their sound is frenzied, driven and up-tempo. Goofy vocals are mixed with provoking social commentary — a little humor and wit. Sadly, the band doesn't translate well through studio recordings, but when paired with a frantic stage show, there's some real talent.
The founding members are Norwood Fisher (vocals/bass), Fish Fisher (drums), Angelo Moore (aka Dr. Madd Vibes, on vocals/sax), Dirty Walt (vocals/trumpet), Kendall Jones (guitar) and Chris Dowd (keys/trombone/vocals).
Now, however, only three original members remain, Norwood, Walt and Angelo.
Throughout the decades, Fishbone has done some extensive touring, even performing worldwide with the Beastie Boys, Red Hot Chili Peppers, Jane's Addiction, The Roots, Les Claypool/Primus, George Clinton, The Dead Kennedys, Fela Kuti, and many others.
The 2010 documentary "Everyday Sunshine: The Story of Fishbone" offers a vivid look at the band, from creation to present-day operations. The doc provides an inside look at a group that's always been on the edge of mainstream success.
Tribulations have include Kendall's departure (to a "cult") and Norwood's fight against kidnapping charges (brought as a result of him trying to rescue Kendall from the cult).
The film has garnered praise from some of modern music's most influential artists: Perry Farrell, Chuck D, Jerry Cantrell, Questlove, Gwen Stefani, and Rob Trujillo, as well as actors Jason Lee, Lawrence Fishburn and Tim Robbins.
The band has been working hard on a resurgence, mounting a 2013 tour for its newest release "Crazy Glue," a seven-track EP. The three original members are now supported by Rocky George (guitar), Dre Gipson (keyboards, vocals), John Steward (drums) and Jay Armant (trombone, vocals).
Fishbone is more of an experience than anything else, especially in a live performance. Raising political and civil rights awareness, the message seems to be more important than the music (Though Angelo doesn't climb the rafters anymore … and at 47, who can blame him?) Nevertheless, he and the group are still putting everything into each performance.