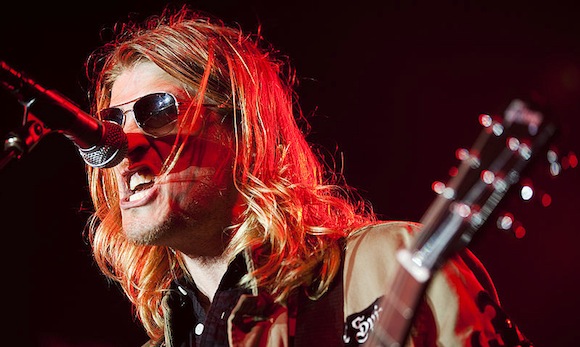 On New Year's Eve night, Puddle of Mudd will perform at Whisky a Go-Go, one of the many bands that successfully rode the grunge wave, initially pioneered by Nirvana.
Filling the void created by the loss of Kurt Cobain, bands like PoM were simply at the right place at the right time.
PoM, Silverchair, Staind, Linkin Park and Creed all attempt to do the grunge thing, only lacking a true voice, and with poor execution; concocting a sludge of repetitive, droning guitar riffs mixed with aloof, whining vocals sung out of the side of the mouth.
The true spirit of alternative music is lost on these bands. They are not tortured artists with no other way to express themselves. They do it for the fame and money.
While the rest of us were enjoying The Breeders, Melvins, Mudhoney, Alice and Chains and Soundgarden, other unlucky souls were busy supporting bands like Puddle of Mudd, in between World Wrestling Entertainment events.
Bands like Mudhoney and the Melvins still tour and record fantastic albums. They will never see radio play and will never win a Grammy, but that is exactly what they want.
PoM's demo tape was well received by Limp Bizkit's Fred Durst in 2001. He helped foster the band, contributing to the success of singles like "She Hates Me," a track that sounds frighteningly similar to Suicidal Tendencies' "I Saw Your Mommy."
After achieving mainstream success, frontman Wes Scantlin distanced himself from Durst. In a 2004 interview for Metal Underground, he said Durst "doesn't do anything for us."
Since forming in 1992, the band has released five studio albums and one EP. The original lineup was Scantlin (vocals/guitar), Jimmy Allen (guitar), 
Sean Sammon (Bass) and Kenny Burkitt (drums). PoM.
Scantlin is the only remaining original member.
"Come Clean" is the band's most well-known album, producing two hit singles, "Blurry" and "She Hates Me," the latter making an appearance in 2006's forgettable film "My Super Ex-Girlfriend."
More interesting than PoM's record sales is Scantlin's arrest record. A reliable source of douchebag behavior, much like Creed counterpart Scott Stapp, Scantlin was arrested on allegations of domestic violence in 2002, and again for public intoxication during a live 2004 performance. He was also charged for spitting in the back of a police cruiser.
In 2012, his failure to pay taxes in 2009 brought him more bad press. So did charges for possession of cocaine and driving without a license.
Recently, he was arrested for public intoxication on an airplane traveling from Boston to Los Angeles, causing an emergency landing in Austin, Tx. He has also been banned from Graceland for jumping into a pool that was "off limits."
What a rebel.
The Whisky a Go-Go has come a long way from the days of The Doors, Janis Joplin and Led Zeppelin.
If attending the show New Year's Eve, you'll witness Puddle of Mudd's loose interpretation of what grunge was in the early 1990s … before it died.