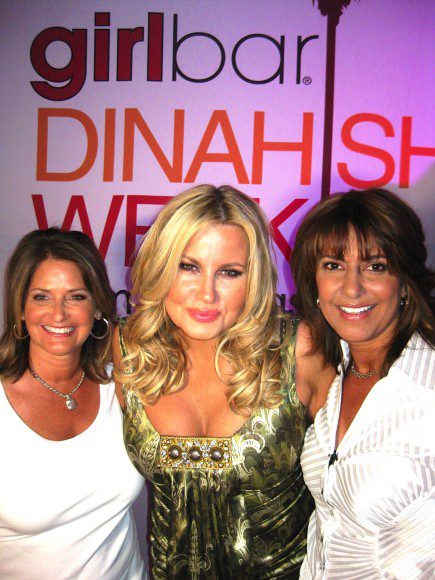 5. Robin Gans
Who she is:
Co-producer of the internationally known lesbian extravaganza known as Dinah Shore Weekend in Palm Springs and creator of Girl Bar, West Hollywood's most enduring gay gal gathering, Gans has been called a poster girl for "lipstick lesbians" via her events. She's also a successful psychologist whose practice is focused on helping clients with gay identity issues. Gans was educated at the California School of Professional Psychology and The Wright Institute in Los Angeles.
How She Got Started:
"We got into it by accident. Sandy (Sachs) and I were the managers at Revolver (the well-known video bar). Women started to get wind of the fact that two lesbians were the managers of Revolver and they started coming! I was bartending at the time on Thursday and Friday nights … in the back bar … and we started to get a crowd of women on those nights … so the word spread and then we were approached by Scott Forbes, the owner of Studio One and the Backlot (showroom) back in 1990 … and Girl Bar started at the Backlot of Studio One every Friday night."
What:
Girl Bar, now called GB2
Where:
The Abbey, 692 N. Robertson Blvd. abbeyfoodandbar.com
Why it works:
More than 20 years since it began, Girl Bar is still known to have the sexiest patrons in the lesbian club scene. Newly out gay gals, bi-babes and straight ladies looking to experiment or simply absorb some fun female energy, continue to discover the gathering. Gans keeps the events fresh with pretty young things on the go-go podiums and females in the DJ booths. Of course, involvement with Dinah Shore weekend (an event documented to the masses on Showtimes' "The L Word" and "The Real L Word") hasn't hurt GB's hip quotient either. For a second year, the event will be held in Las Vegas in 2013.
Impact/Challenges:
"Women do not spend money nor do they go out the way men, straight and gay, do," Gans said. "Women tend to socialize a bit differently. Therefore, when planning events you need to take into consideration money, timing, location and need. The women's community is quite diverse, therefore it's impossible to be everything to everyone. We all need to know our customers and our niche. Safe venues in good neighborhoods are very important as a club full of women will draw the attention of some people who don't have the best intentions. So security is important and key."
As for the scene itself, Gans said it's gotten younger and more eclectic.
"We have a diversity of women and different promoters who cater to their own niches. There is more going on for lesbians now than ever before, which I think is great!"
Success, and the pressures that came with it, played a part in Gans and Sach's breakup as a couple, Gans said.
They were a couple at the time their profiles were growing as promoters, and they did lots of talk shows.
"I believe that the community held us to a certain standard, which can be hard on a relationship," she said. "It was not always easy for us to relax. We tried and were great partners in love, business and life for almost 20 years. We are still business partners in a few things, but personally our lives changed and we grew in different directions. It happens … hopefully we were good models for our community on how to handle a breakup and still remain partners and friends."
On the web:
[hr]