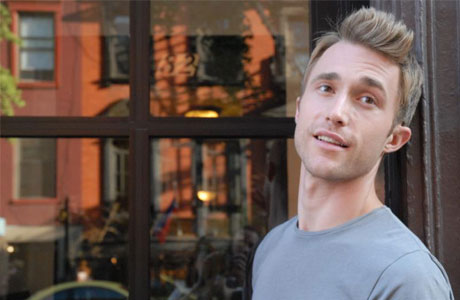 Based on the delicious blog turned book, "The Great Cock Hunt", Hunting Season is a series about being young, gay and single in New York (a gay "Sex and the City," if you will).
Alex (Ben Bauer), a single gay 20-something, is on the hunt for hot guys, great sex and maybe a little more along the way. An aspiring writer and successful Gawker blogger, Alex decides to start an anonymous blog detailing his sexual exploits with the handsome gay (and straight) men of Manhattan. The gay web series follows he and his friends as they navigate life in New York, all while Alex writes about it on his popular blog.
There's TJ (Jake Manabat), a recent newly-wed who's having doubts about an "open" marriage; Nick (Jake Ferver), a cute otter whose low self-esteem often clashes with the rest of his friends; and Tommy (Marc Sinoway), a sex pistol whose done it all (and then some). Early on, Alex starts two flings: one with Lenny (Walker Hare), a hopeless romantic, and the other with Reese (Tyler French), a sexy actor Alex finds at the gym. While writing about and navigating both relationships, Alex finds that he may be more confused than he at first believed when it comes to what he wants out of love.
With hot sex scenes (available uncensored at huntingseason.tv), great acting, and just enough drama, Hunting Season is sure to satisfy that long unfulfilled need for a comedy that focuses on gay life.
Follow the series on Facebook.com/HuntingSeasonTV and on Twitter @HuntingSeasonTV for updates.
[hr]
[hr]
Watch the First Episode: