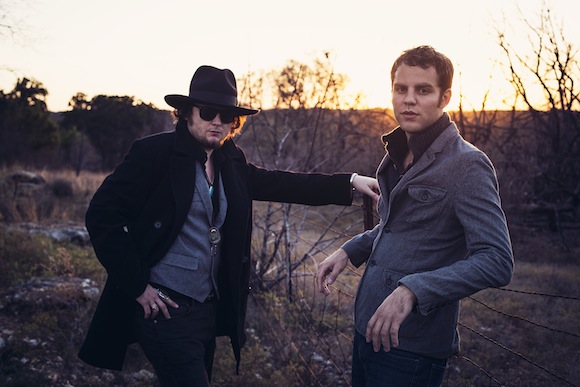 Fresh-faced up-and-comers Sons of Fathers bring their folk-driven rock sound to West Hollywood at the Troubadour on Wednesday (Jan. 9).
They like to drink. They like to play. They love to harmonize. It's Donny and Marie, but Texas-style, which means a little Waylon Jennings-type Southern rebellion always comes into play. (These dudes seem to be lit in practically every interview we found.)
But they are also amazing musicians, and sometimes music sounds better with a buzz. That's why they play in bars.
David Beck (guitarist/vocalist) and Paul Cauthen (stand-up bassist/vocalist) are the band's core. They met in San Marcos while playing the same music circuit; "Beck and Cauthen" was to be the name. However, a more-established musician with a similar name sent them a cease-and-desist letter. Enter "Sons of Fathers."
The new band name, along with the group's eponymous album better include the entire unit. Cauthen's relationship with his estranged father and beloved grandfather may have been an influence. The latter taught him to play the six-string before passing away. Beck's father is also a respected touring musician, playing with Robert Earl Keen.
The duo sounds just as good without a backing band, though they tour with the help of Zach Samuell on drums, Corby Schaub on mandolin and Regan Schmidt on lap steel guitar. At times the music can be bleak, but there is a warmth and soul peeking through.
The sound is folk rock, but not in the twangy up-tempo way that Mumford and Sons (the Coldplay of folk) has used to sweep the nation — with anthems for couples and long-distance relationships everywhere.
With Sons of Fathers, mandolin and lap steel replace the banjo. The beat is easier to grasp, not slow. It's focused. And the lyrics are more introspective.
They have yet to write a tune as catchy as Mumford's "I Will Wait," but their title track is damn good, and the rest of the album is certainly worth your time.
Before long, they may be selling out massive auditoriums. In the meantime, you can catch them at more intimate venues, which is always the best way to see a band.