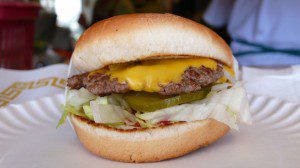 The owner of Irv's Burgers claims that a neighboring business owner has pressured her to relocate to make way for a new restaurant, according to numerous reports.
Irv's owner Sonia Hong says her landlord wants to boost her rent up so high she would be forced to leave. However, Michael Bitton of the Standard Oil Investment Group, which is the landlord of Irv's Burgers, told WeHo News that the two sides are simply negotiating terms over the stand's future, and that Hong was "panicking."
Standard Oil is redeveloping the property that extends beyond Irv's, and has plans to construct a café called "Beach Nation." Schoos Design, whose offices are just down the street from Irv's, is designing the proposed café and the improvements to Irv's.
Through the years, Irv's has had to fight to remain at its location along Santa Monica Boulevard across from West Hollywood City Hall, including a real scare in 2004 when it faced demolition to make way for a proposed Peet's coffee shop.
For 62 years, Irv's has been a popular sidewalk eatery, and was even designated as a West Hollywood cultural resource in 2005.