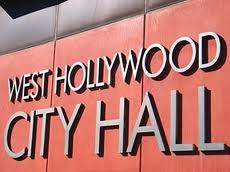 West Hollywood City Manager Paul Arevalo announced that Sam Baxter will be the city's new assistant city manager, and David Wilson will be the new finance director on Thursday, according to public information officer Tamara White.
Baxter has been with the city since 1992, and was previously the director of human services and stabilization.
He will assist Arevalo in overseeing the city's $90 million budget and a staff of more than 200.
Previously, Joan English was assistant city manager, before retiring on Dec. 31, 2010. She continued on as part-time assistant city manager until June 30 of this year, and received some criticism for collecting her pension as a retired government official while continuing to collect a salary in the temporary role.
Baxter earned a bachelor's in natural resources management from Cal Poly, San Luis Obispo before managing the San Luis Obispo County park system. Before joining the West Hollywood city staff, he was assistant director of the parks and recreation department in Pasco, Wash., and a partner in a family-owned residential development company.
Wilson became the interim director of finance and information technology in April after Anil Gandhy's retirement.