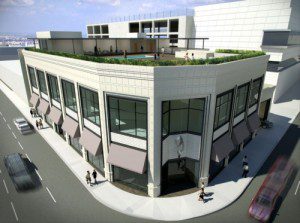 Construction is under way on a 27,000-square foot Melrose Avenue building said to serve as a "gateway bridging the city's civic corridor with the Avenues of Art and Design."
The building, at 8711 Melrose Ave. at San Vicente, will be a retail and commercial development, according to developer Faring Capital. The project will be completed in spring 2013.
"This innovative project is completely column-free with soaring ceilings and is the first on the street with a subterranean parking garage," said managing partner Jason Illoulian.
The parking garage will include 80 underground spaces.
Illoulian added that he expects likely tenants to be similar to the neighboring stores, which include Balenciaga, Cecconi's, Rag & Bone, Maxfield and John Varvatos.
Illoulian is a board member of the Avenues of Art and Design Business Improvement District. Other West Hollywood projects of his include 8900 Beverly Blvd. at Swall, 146 North Clark Dr. at Beverly and 8933 Beverly Blvd. at La Peer.
Architectural firm RNL designed the structure, which gained West Hollywood Planning Commission and City Council approval last year.