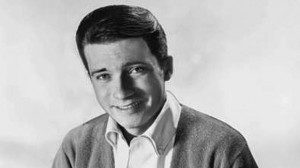 Jimmy O'Neill, who became a national celebrity at 24 while hosting "Shindig!," one of the earliest rock 'n' roll shows on prime-time television, and who turned a small jazz club into a famous Sunset Strip teen club called Pandora's Box, died at his West Hollywood home Friday. He was 73.
The LA Times reports O'Neill had diabetes and heart problems.
O'Neill became Los Angeles' top-rated radio deejay in his early 20's, and was the first voice heard on KRLA when it transitioned from country western to rock music. O'Neill hosted Shindig!, a music variety show that aired on ABC for two seasons from 1964 to 1966. The show featured some of the most popular performers of the decade, including Lesley Gore, Bo Diddley, Sonny and Cher, The Beach Boys, James Brown and The Ronettes.
But West Hollywood might best know him as the KRLA deejay who bought Pandora's Box, then a little jazz club along the Sunset Strip, and turned it into a teen club in 1962. For a number of years, Pandora's Box was at the center of the Strip youth scene.
The club, known for its purple and gold exterior and for drawing a crowd of mostly clean-cut teenagers, was in the middle of the Strip at the corner of Sunset and Crescent Heights boulevards — where about a dozen clubs could be found, creating a traffic nightmare between Hollywood and Beverly Hills.
In 1966, it was the epicenter of "the Sunset Strip riots."
Young rock fans protested efforts to enforce a 10 p.m. curfew and to close nightclubs that they were allowed to go to, including Pandora's Box.
Residents and business owners complained of traffic jams caused by kids at the clubs.
On Nov. 12, 1966, as many as 1,000 people turned out, including Jack Nicholson and Peter Fonda, to demonstrate along the strip, and in front of Pandora's Box.
After police and sheriff's deputies closed off part of the Strip, protesters destroyed a bus, hurled rocks and bottles and smashed storefront windows and car windshields.
The protests continued through December. Sonny and Cher even made an appearance in front of Pandora's Box in December. Buffalo Springfield's "For What It's Worth" was written about the riots.
In the meantime,  a number of Strip clubs shut down, and the Los Angeles City Council condemned Pandora's Box.
On Aug. 3, 1967, Pandora's Box was demolished, and no sign of it remains today.
The video below shows footage of the riots.