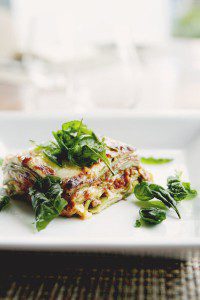 RivaBella, an 8,000-square-foot fine-dining Italian restaurant, opened on the Sunset Strip on Monday.
Behind RivaBella is Innovative Dining Group (IDG) in partnership with chef-restauranteur Gino Angelini, who is the chef and owner of the highly rated Angelini Osteria at 7313 Beverly Blvd., west of La Brea. IDG owns West Hollywood eateries Katana and BOA Steakhouse.
RivaBella is modeled to resemble a rustic Tuscan farmhouse and offers a 2,800-square-foot outdoor dining area and wine cave.
The menu includes pizza, pastas, salads, antipasti, and entrees such as Sicilian-style branzino, porcini and gorgonzola pizza, braised wild boar with crispy polenta, and house-made saffron tagliatelle with prosciutto ragu.
Hours include: Monday to Friday 11:30 a.m. to 2:30 p.m. for lunch; Sunday and Monday 5:30 to 10:30 p.m., 
Tuesday and Wednesday 5:30 to 11:30 p.m., Thursday 5:30 to 11:30 p.m., and Friday and Saturday 5:30 p.m. to midnight. The bar is open daily at 5 p.m. with a Monday-to-Friday happy hour from 5 to 7 p.m.
The restaurant is located at 9201 Sunset Blvd., just west of Doheny. Call (310) 278-2060 for more information, or go to www.rivabellarestaurant.com.