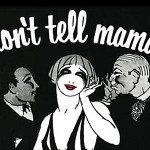 Don't Tell Mama, the restaurant and lounge that will occupy the former O Bar space in West Hollywood, is a step closer to opening. More than 300 prospective employees showed up on Wednesday (Jan. 16) to audition for jobs as singing bartenders, waiters, hosts and managers.
Joining Mama employees as judges were Marissa Jaret Winokur, the Tony Award-winning star of "Hairspray," and Los Angeles cast director Bruce Newburg. Don't Tell Mama hopes to televise the auditions soon.
Don't Tell Mama is the West Coast cousin of Don't Tell Mama in New York City, which is famed for its cabaret shows over the past 30 years. The owners didn't seek a city cabaret license for the West Hollywood location, which is at 8279 Santa Monica Blvd. near Sweetzer. Jeffrey Steinberger, one of the partners in the venture, said Mama first wants to "see how the restaurant and bar go … When [residents and city officials] see that we follow the rules according to what we told them we were going to do, then we may accommodate a cabaret later on." The permit granted by the city allows no more than six performers at any time and requires that food be served during Don't Tell Mama's operating hours, which are 11 a.m. to 2 a.m.
With its singing waiters, Mama will resemble Miceli's in Hollywood, known for its singing waiters and Italian food. Mama, however, will offer a New American menu.