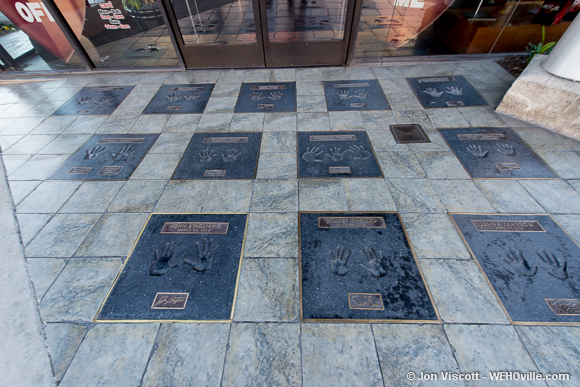 When it comes to celebrities and walks of fame, 15 blocks of Hollywood Boulevard and three blocks of Vine Street get most of the buzz. Tourists stumble over one another to snap photos of some of the more than 2,400 stars embedded in the sidewalks that celebrate entertainers such as Charlie Chaplin, Gene Autry, Bob Hope, Frank Sinatra, Dinah Shore, Jack Benny and Paul McCartney.
Rumor has it that the Hollywood Walk of Fame draws more than 10 million tourists a year. Then there's Grauman's Chinese Theatre, whose Forecourt of the Stars boasts more than a hundred footprints of Hollywood celebrities, dating back to Mary Pickford and Douglas Fairbanks in 1927.
Less well known, but equally alluring to aficionados of a certain form of entertainment, are West Hollywood's two "Blocks of Fame," one on Sunset Boulevard and one on Santa Monica Boulevard.
Unlike the star-studded terrazzo plaques on Hollywood Boulevard, they consist of plaques in the sidewalk where kings and queens of the adult film industry such as Marilyn Chambers ("Behind the Green Door"), Harry Reems ("Deep Throat") and Jenna Jameson ("Up and Cummers") have left impressions of their hands and feet and their signatures. There are only 21 plaques in the two locations, which is either a function of the small size of the industry or because WeHo has more carefully curated its selection of celebrities. (The X-Rated Critics Organization, or XRCO, has named 108 adult performers to its virtual hall of fame. The Adult Star Path of Fame in Edison, NJ, has plans to honor 41).
And unlike the Hollywood stars, which honor celebrities chosen by the Hollywood Chamber of Commerce, those honored by West Hollywood's plaques are chosen by the owners of the businesses they front. Small as they are, the sites are worth a visit, especially if you can't get to Las Vegas on Thursday (Jan. 17) for the 15th annual "adult entertainment expo."
Below, we split up the lists by their location. On each page, you'll find bios of the stars who are immortalized on WeHo's streets. The lists start with industry veterans, dead and alive, and end with adult film's newest and youngest stars.
[hr_dotted]
Santa Monica Boulevard's Porn Block of Fame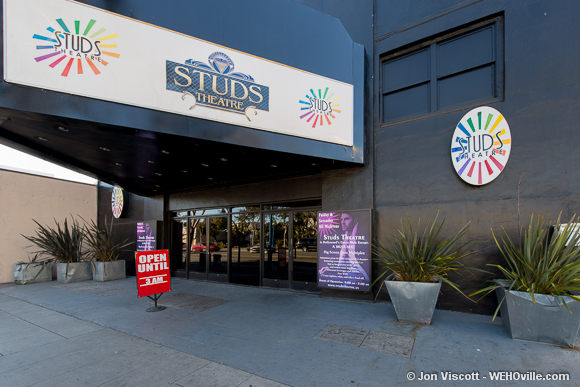 Click for the Studs list
[hr_dotted]
The Sunset Strip's Porn Block of Fame