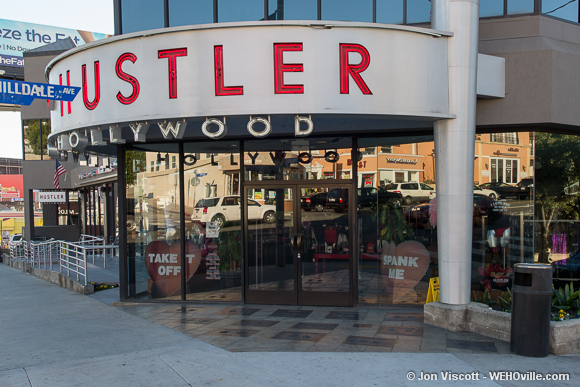 Here, from the Hustler store, are bios of the stars who are immortalized on WeHo's streets. The list starts with industry veterans, dead and alive, and ends with adult film's newest and youngest stars.
West Hollywood's other "block of fame" is the entryway to Larry Flynt's Hustler store at 8920 W. Sunset Blvd. at Hilldale. Hustler Hollywood, named for the first major U.S. magazine that showed female genitalia, opened in 1998 as the flagship of what has become a chain of 11 stores nationwide. As Flynt transformed the mainstream adult magazine business with hardcore content disdained by Playboy, so did his daughter, Theresa, refashion the concept of the adult store, making it bright and airy instead of dark and forbidding. As Hustler proclaims, the store not only sells toys, apparel and sexual accoutrements, it celebrates them. Hustler celebrated its opening on Dec. 3, 1998, with appearances by Flynt, Marilyn Chambers (profiled above) and Ron Jeremy, each of whom has left handprints and footprints in the sidewalk outside. The other stars it celebrates on the sidewalk outside are:
[hr_dotted]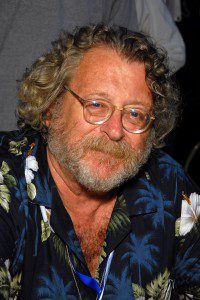 William Margold (Jan. 17, 2002). Margold, 73, started work as a probation officer and became a part-time writer for newspapers such as the Santa Monica Evening Outlook. He has spent most of his career promoting or writing about adult films. In 1972, he joined Hollywood Press, a newspaper focused on the adult entertainment industry. He was a co-founder (with Jim Holliday) in 1984 of the X-Rated Critics Organization (XRCO). In 1976 he founded Worth Mentioning Public Relations and became publicity director of Carlos Tobalina's Mayan, XI and XII adult theatres and the Hollywood International Film Corporation of America." Margold is a former director of the Free Speech Coalition and co-founded the PAW Foundation, which provides charitable assistance to porn performers. He is a member of the AVN Hall of Fame.
[hr_dotted]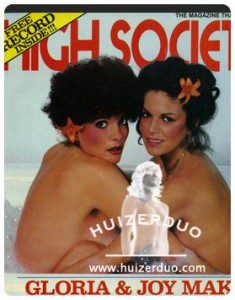 Gloria Leonard (Jan. 17, 2002). Leonard, 72, is a noted feminist and First Amendment advocate who got into the adult film business in 1976 after briefly working on Wall Street and in PR. Early films were "The Trouble With Young Stuff," "All About Gloria Leonard" and "Taboo: American Style." She retired from the industry in 1984, moved to Hawaii in 1993 and returned to Los Angeles in 1997 to work for Private Media Group as publisher of High Society magazine, a men's magazine that became infamous for publishing nude photos of celebrities such as Margot Kidder, Ann-Margret and Barbra Streisand. She also is known for establishing the first phone sex business in 1983. From 1989 to 1992, Leonard was director of the Adult Film and Video Association of America, the industry's trade association. She has frequently participated in debates on the impact of pornography on women's rights. She is a member of both the XRCO and AVN halls of fame.
[hr_dotted]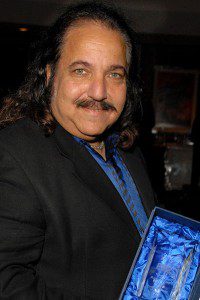 Ron Jeremy (Dec. 3, 1998). Jeremy, 59, is the consummate entertainment entrepreneur. He left teaching for porn, where he became famous for his skill at autofellatio. The Guinness Book of World Records credits Jeremy with "Most Appearances in Adult Films" (some 2,000). He also has been inducted into both the AVN and XRCO halls of fame and he has a spot on the Adult Star Path of Fame in Edison, NJ. Jeremy has worked in a number of non-porn films ("They Bite," 1996, and "The Boondock Saints," 1999). And he was the subject of a documentary, "Porn Star: The Legend of Ron Jeremy," available on DVD. His television appearances have included "The Surreal Life" with Tammy Faye Bakker and Comedy Central's "Chappelle's Show." His musical accomplishments include a rap single called "Freak Of The Week," which peaked at 95 on the Billboard rap charts. He also has appeared in PETA advertisements. His memoir, "Ron Jeremy: The Hardest (Working) Man in Showbiz," was published by Harper Collins in 2007. He has opened a swingers nightclub named Ron Jeremy's Club Sesso in downtown Portland, OR, and he markets a brand of rum called "Ron de Jeremy."