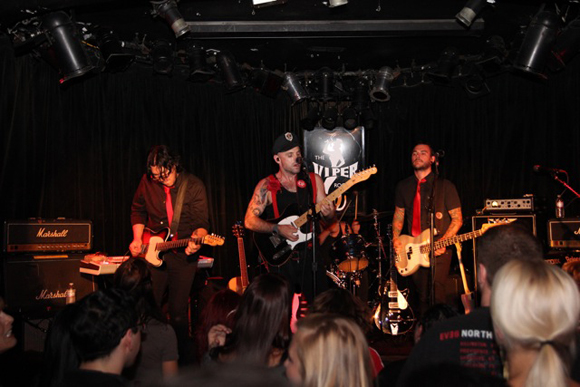 The Parlotones are South Africa's pride and joy.
But now, they're official launching their American invasion. The band has moved 8,000 miles away to Los Angeles.
Back home in South Africa, they were selling out stadiums, leading enormous parades and opening for Coldplay. They even have a number of wines named after their hit singles, including Giant Mistake (a red blend), Push Me To The Floor (white blend) and We Call This Dancing (rosé).
Last night, however, the Parlotones played a more humble venue, The Viper Room. Two days after the crew first landed in LA, they put on an energetic show to an intimate crowd of local supporters. Many in the room knew the lyrics to every song.
Before the show, WEHOville sat down with Kahn Morbee (lead singer/guitarist) and Paul Hodgson (lead guitarist), and asked them about their climb to fame, and what the future holds for them in America. 
[hr]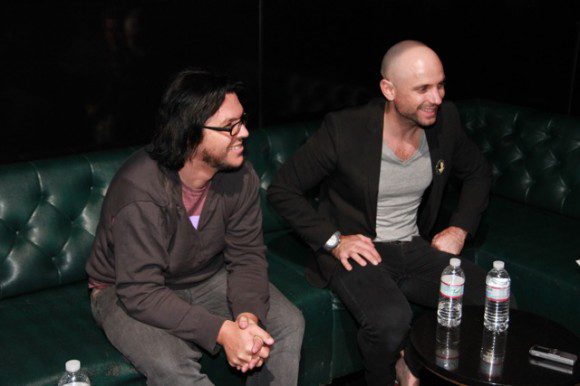 Tell us about the band's roots.
Kahn: We all grouped up in a city of South Africa called Johannesburg. We all went to the same school, both primary and high school. We got introduced through mutual friends and decided to start a band. The usual cliché. We ended up in one of our parents' garage.
South Africa's been really good to us. Allowed us to have a career in music. It was very difficult because over there, there's not really an established music industry like there is in the States. It's hard there to get noted and established — I guess through perseverance and awesomeness (laughter). No I'm joking. Just through perseverance … we managed to actually get a career out of music …
Paul: … Through sheer bloody-mindedness.
Kahn: Throughout our career, all of us had to juggle day jobs. In the early stages, we would drive for four hours to the show, set up the PA ourselves, sound check it ourselves. Sometimes we would set up for other bands playing before us or vice versa, then break it down after the evening's event, drive back home, go back to work. Sometimes, you do all that effort and, uh, there's 10 people.
And the usual things, we've had car accidents, cars going off cliffs, and trailer fires. PAs catching on fire.
Now, about that car going off a cliff …
Kahn: Oh, actually the car was kind of caught by trees … Everyone was fine. The car wasn't fine.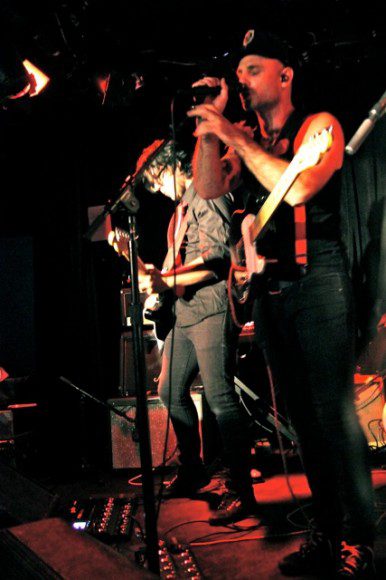 Tell us about your most memorable gig to date.
Kahn: In 2010, we played for the FIFA World Cup. It was awesome. We played one song but in some way, we got to be a part of a historic event. That was definitely a highlight.
What do you expect to find in LA?
Paul: We hope to find Dave Grohl's house.
Kahn: I guess, you know, it's the "make or break" that is America. Either it'll reap rewards or it won't. The reward is the giving it your best. Not many bands, especially from South Africa, can have that opportunity. We do. Even if it all fails, we had a great invention.
Does your music have a message?
Kahn: There's nothing specific. We sing about life's themes. The highs and lows. Our experiences or our observations of other people's experiences. And if that resonates with some people, then awesome. But it's not like we get up on stage with some deep intent to change the world.
Influences?
Kahn: Well, there are thousands, but the core bands that made us want to start a band, kind of inspired the original sound of the band, were ones like The Smiths and The Cure. Early Radiohead, R.E.M.
What's next for the Parlotones?
Kahn: For now, we've relocated to Los Angeles. The next few weeks we'll be settling in, finding a place to call home. And getting into some sort of routine. Then in the months to come, there will be various shows peppered throughout. Certainly, we'll be planning on another nationwide tour.
So, you are looking for a home for the band? A rock house?
Paul: There's five of us! We're going to be sharing a house. We need to start working on a new album!