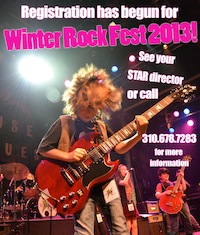 Saturday, Jan. 26
The RockSTAR Music Education program and West Hollywood will host 140 "kid rock" bands on the Sunset Strip on Jan. 26. Band members will range in age from 6 to 12 and come from across Los Angeles County, including several elementary schools in the West Hollywood area. The event will also feature a raffle for rock and roll memorabilia, including a guitar signed by the Grammy-winning band Green Day.
RockSTAR's mission is to bring music back into schools that cut their music programs because of budget shortfalls. Its supporters include rock celebrities such as The Black Keys, Slash, Santana, Britney Spears, Taylor Dayne, DMC, Chris Slade of AC/DC, Gene Simmons and Sammy Hagar.
Events will take place from 11 a.m. to 3 p.m. at three venues: the Key Club, 9039 Sunset Blvd. at North Weatherly; the Roxy Theatre, 9009 Sunset Blvd. and the Whisky A Go-Go, 8901 Sunset Blvd. Tickets for each club are $12, and will be available on the day of the show and online. For more information, call (323) 848-6400.