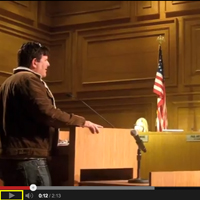 Some grudges are hard to let go of, even when someone else is trying to broker peace.
That's what happened with councilmember John Heilman on Tuesday night at the West Hollywood City Council meeting. Heilman seems to be holding onto a two-year-old grudge against councilmember John D'Amico, who defeated Lindsey Horvath in the March 2011 election and as a result eliminated Heilman's voting majority (with Abbe Land) on the council.
Rumors have circulated since D'Amico was sworn into office that Heilman wouldn't have anything to do with D'Amico, save for the few tense words the two occasionally exchange from the dais. During the Dec. 17, 2012 council meeting, D'Amico confirmed that Heilman had not spoken to him since the election.
So, at Tuesday's council meeting, resident Larry Block, owner of the Block Party clothing store in Boystown, attempted to play peacemaker. During public comment, Block asked both D'Amico and Heilman to stand up and shake hands.
"I'm just wondering if maybe tonight we can start the new year fresh and maybe John Heilman can shake John D'Amico's hand, welcome him to city council and get a fresh start for the whole year," Block said.
While D'Amico seemed game, looking in Heilman's direction for a similar gesture, Heilman kept his head down, looking at the papers in front of him.
When Block pointed out to Heilman that D'Amico seemed willing and was looking toward him, the 28-year councilman said, "I'm looking at you. You're the speaker."
Heilman never looked at D'Amico, or shook his hand. It seems his grudge will continue.
While the peacemaking effort failed, mayor Jeff Prang praised Block's attempt.
"Perhaps the president was erring in his appointment of John Kerry as secretary of state. Maybe it should be you," Prang said. "You're a keen diplomat."
Block is D'Amico's appointee to the city's disabilities advisory board.
WEHOville caught the whole thing on video. Watch it below:
[youtube http://www.youtube.com/watch?v=z70hL9-SmAM]