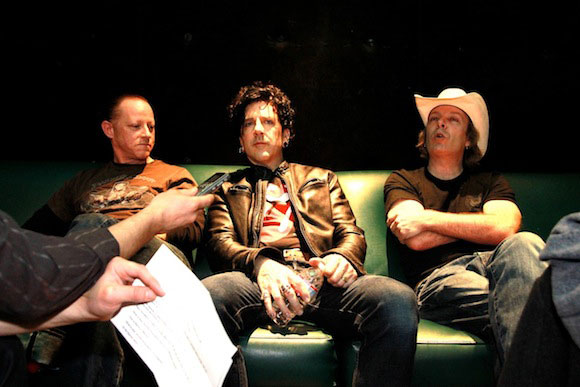 It's that band … the one that wrote the song about Disneyland, right?
Yes, you've got it.
We all remember it, wherever you may have been in 1992. Somehow, 20 years and five albums later, dada — the band that sang "Dizz Knee Land" — is still at it, and even about to embark on a 34-stop American tour in honor of its 20th anniversary.
On Wednesday, the band mates kicked off the tour with a show at the Key Club.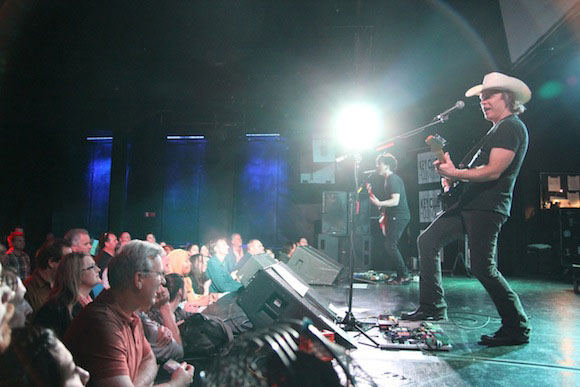 Roughly an hour before set time, Joie Calio (bass and lead vocals), Michael Gurley (guitar and lead vocals) and Phil Leavitt (drums and backing vocals) sat down in the dressing room to discuss band life, their brush with mainstream success and Sting.
Dada mixes intelligent folk rock with a little country twang and even some Latin flavor.
Phil described the band's sound as: "Simon & Garfunkel playing with Jimi Hendrix and Keith Moon on drums, with the Beatles kind of coursing through it somehow, a little bit of the Rolling Stones sometimes. The harmonies with the driving guitar explosion. In the song-writing sense, what the Beatles brought to pop music."
Determined not to be a one-hit wonder, dada has been "chasing the dragon" ever since "Dizz Knee Land," from the band's debut album "Puzzle."
"We were shooting high," Leavitt said. "Everybody who gets into this has a dream of (If they tell you they don't, I don't think they are telling you the truth) … world domination. We arrive at different levels of world domination. We turned into a cult band, we have a hardcore cult audience. So, that doesn't detract from out dream and what we set out to do . . . we also set out to make our music together."
Calio added, "There's no real money to be made all the time, you're gonna have to play through the lean years … Everybody has the top one-tenth of 1 percent in mind when they think about rock 'n' roll."
"It's especially worse now with the American Idolization," Gurley said. "They just think they have to audition and six months later they'll be millionaires and on TV with a record contract."
"For the rest of us, it's a blue-collar job," Leavitt said.
Dada simply refuses to go away. Why? Because the band members are more than happy to suffer for their art.
We witnessed Gurley icing his hands and wrists before the show. He may have carpal tunnel syndrome, but see him play live, and you would never know. The guy is a natural, dominating the fretboard like few contemporary guitarists can.
And Dada remains an efficient unit. Each member does the work of at least two men, and it looks effortless.
Their initial success gave them the opportunity to tour with household names like Sting, Depeche Mode and Crowded House. The band members recalled their first show playing with Sting in 1993 at UC Berkeley's Greek Theatre.
"We were nervous, big venue, packed house, Sting's tour. (We're) big Police fans," Leavitt said. "We were backstage, getting ready to go, all nerved out. All of the sudden, the curtain whips open and there's Sting in his tightie-whities, no shirt, more of a loincloth."
Calio: "We were all warming up like, 'Ahhhhhh' (doing a vocal warm-up) and he was like, 'Hey, you guys warming up your voices?' We're all, 'Yeah.' And he's all … 'I never do that.'"
Gurley: "I mean, he seemed a little pretentious right then, but over the next three or four months touring he's a really nice guy. He used to watch our band every night, stand in the front and watch the whole show, eat with us, and he turned out to be just a great guy."
Since those days, dada has developed a catalogue of unique compositions. And they are still happy to play the song that made them famous.
At Wednesday's show, they played crowd-favorites "Poster," "I Get High" and "Here Today, Gone Tomorrow." They also performed a mash-up of the "James Bond" theme-song with "Eleanor Rigby," a cover of "Last Train to Clarksville," and, of course, "Dizz Knee Land."