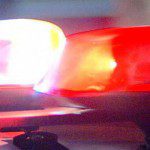 One person was injured Friday night and 12 others were displaced because of an explosion at a West Hollywood apartment building believed to have been caused by a man's alleged drug lab.
The man was using explosive chemicals to extract THC from marijuana, according to City News Service. He is now hospitalized with first- and second-degree burns.
The explosion was reported at 6:50 p.m. at 1260 Havenhurst Drive, between Santa Monica Boulevard and Fountain Avenue, according to the Los Angeles County Fire Department.
The explosion displaced dozens of residents for much of Friday night. Most were allowed back in by 11 p.m.