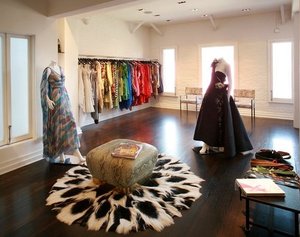 We know, we know. First, "Vanderpump Rules." And now you've had to set aside Monday nights for season 5 of RuPaul's "Drag Race," featuring all your favorite queens.
But yes, there is yet another reality show coming to town.
Late last week, Bravo announced the kickoff date for the latest reality TV show to hit the West Hollywood area. On March 6, a new series titled "Dukes of Melrose" premieres, and promises to follow the exploits of renowned vintage boutique owners Christos Garkinos and Cameron Silver as they scour the globe looking for the very finest fashion finds.
The show will take viewers into their exclusive and glamorous vintage couture store, Decades, at 8214 Melrose Ave., at Harper (just outside WeHo boundaries).
Bravo shot the season over the first five months of 2012 during the run up to the 2012 Academy Awards. Garkinos and Silver buy and sell high-end vintage women's apparel and accessories.
Who are these "dukes" you might ask?
Silver is a Los Angeles born and Beverly Hills-raised entrepreneur who actually began his career performing Weimar cabaret songs touring the United States after graduating college. While traveling, he began to search for men's vintage clothing, and later began to collect women's pieces.
In 1997, he opened Decades. Since then, he has brought the world of vintage clothing to Hollywood's starlets.
Silver was named one of Time Magazine's "25 Most Influential Names and Faces in Fashion" in 2002. He also has a Hermés bag ("Cameron") named after him.
Garkinos graduated from the University of Michigan with a degree in business and worked for the exclusive brand management program at Clorox for three years. He then skipped an opportunity to attend Harvard Business School to instead work for …  the Walt Disney Company. For a time, he even dressed as Br'er Bear. Five years later, however, he was head of marketing for Disney Stores in Europe. He then took on a role of vice president of marketing for US Virgin Megastores, before becoming executive vice president.
Today, his nickname is the "Robin Hood of Fashion."
For a sneak peek of "Dukes of Melrose," see the video below: