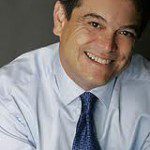 The latest city council race campaign donation filing released by the West Hollywood City Clerk shows challenger Steve Martin significantly behind the incumbents he is challenging in the March 5, 2013 election.
From the beginning of the year through Jan. 19, Martin's campaign has raised only $2,260 according to the report released Wednesday (Jan. 30). The report shows Martin has loaned his campaign an additional $6,200, bringing his total campaign funding to $8,460. By contrast, Mayor Jeff Prang has raised $17,525 and Councilmember John Duran has raised $58,315. Prang and Duran's fundraising began last year. Martin's report indicates he only began raising funds this month. Another challenger, Sam Borelli, has raised $20,358.36.
The reports released Wednesday included one for candidate Rusty Wiggs, who reported no contributions. Tom Demille, who has run unsuccessfully in many past elections, listed contributions of $185, mostly in the form of gift cards from Marco's restaurant, Top Hat dry cleaners, Ralph's supermarket and the Sun Bee liquor store.
Still to be released are contribution reports from challengers Tristan Schukraft and Christopher Landavazo, which likely will be disclosed this week.
The mostly recently reported donations, almost all from West Hollywood residents and businesses, made no dent in the impact real estate industry contributions have had on the race thus far. Real estate interests have donated about $32,000, accounting for the bulk of all donations from a particular group, with 85 percent of those contributions going to John Duran and 15 percent to Jeff Prang. To date, reports show total donations of $90,030, a fraction of the amount likely to be raised in the campaign. In the 2011 race for three council seats, total donations reached $450,000.
Under current city law, candidates may continue to receive donations up to six months after election day. The city council currently is considering a proposal to extend that period to nine months. Many major donors in past elections have hedged their bets, not donating to a candidate until he or she has been elected. An extension of the donation period would make it possible for candidates to cover loans they have made to their campaigns or campaign expenses not funded by pre-election donations.
Editor's note: WEHOville erred in an earlier report of total campaign contributions reported from 2012 to date to West Hollywood City Council candidates Sam Borelli and Steve Martin for the March 5, 2013 election. Those donations are $20,358.36 for Borelli and $8,460 for Martin. WEHOville regrets the error.