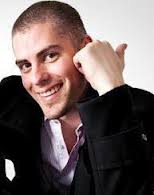 Our friends at WeHo Confidential, who get to dig deeper dirt than we would dare (we're so jealous!) sponsored probably the hottest event this week. We had the sniffles and sadly couldn't make it.
The show at Robertson Lounge on Robertson Boulevard featured awards for some of WeHo's most celebrated and outré locals. As if Councilmember John D'Amico's passion for go go boys wasn't demonstrated enough by his push for the annual WeHo Go Go Dancer (Boy) Appreciation Day, he was scheduled to give WeHo Confidential's Hottest Go Go Boy award to Steven Dehler, a two-time winner. Also sharing the very gay spotlight was Mayor Jeff Prang, who awarded Uber a prize for Best New Local Business. And Jimmy Palmieri, the local activist, gave Councilmember John Duran the award for Most Beloved Council Member.
Other awards and their presenters included: New Hollywood Starlet, to Courtney Stodden, the 18-year-old who soon will be performing at Eleven, presented by Bobby Trendy; Top Performing Artist, to Brooke Candy, the lady rapper; Top Designer/Stylist to Onch, presented b Meital Dohan; Fiercest Queen (and we're betting the competition for this one was intense) to Vicky Vox, presented by Doron Ofir, the casting agent, and Most Lovable Fag Hag, to Chanel Perillo, presented by Vicky Vox.
Most Lickable Andrew Christian Model, was presented to Quinn Jaxon by Andrew Christian himself (did he get to do all the licking?). Freshest Face was presented to Serge David by Grindr's Joel Simkhai, whose app sees fresh faces every day. Top Socialite (Socialite Top?) was presented to James St. James by WeHo Confidential's Lucas John. No. 1 DJ, was presented by Dallas Stouter, the Dancing Queen, to Drew G. No. 1 Street Personality was presented to Pej by promoter Jesse Davis. Downton Personality was presented to Miss Barbie-Q by Bobby Trendy, and Hottest Weekly event was presented to Rasputin, by Rhea Litré.
Wait, there's more! Lucas John gave the VIP Gayte Keeper award to Alexander Antebi of Rasputin.The Abbey, of course, was named No. 1 Night Club. Donny Aldo of Cyber Socket presented the Favorite Local Porn Star award to Christopher Clark. The Most Famous award was presented to Bobby Trendy by, who else, but Bobby Trendy? And finally, casting agent Andrew Scott anointed Anthony Saldana of Micky's as Best Bartender.
If you want a taste of what you missed, click here (NSFW, and over 18 please. Don't say we didn't warn you!)