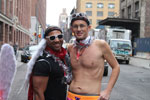 Saturday, Feb. 9
Ever had a desire to go public in your undies? Well, you don't have to be a go go dancer to do that in West Hollywood Park next Saturday.
On Feb. 9 the Children's Tumor Foundation is hosting its annual Cupid's Undie Run there to raise money for research about and support of children with neurofibromatosis, a genetic disorder that causes tumors to grow on nerve cells.
Entry fee is $40, although if you raise $150 in contributions you'll be invited to the VIP open bar at the Abbey after the run. Pre-run festivities begin at noon at the Abbey, on North Robertson Boulevard just south of Santa Monica.
The run begins at 2 p.m. and a ceremony awarding winners is at 3 p.m. The course is about one mile long. Register online.