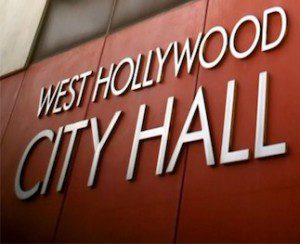 The West Hollywood City Council appointed nine people to the recently created Eastside Task Force at its Monday night meeting.
Created at a September 2012 council meeting, the task force is in charge of making suggestions for improving quality of life and public safety on the town's east side (between Fairfax  and La Brea avenues). The group is also responsible for finding ways to improve communications between City Hall and the Eastside residents, in addition to making recommendations about ways to improve businesses.
The task force replaces the old Eastside project advisory committee (PAC), which oversaw development on the city's Eastside. The PAC disbanded in early 2012 when the state government required cities to dissolve their redevelopment agencies and relinquish redevelopment funds to the help shore up the state's budget shortfalls. The PAC worked closely with the city's redevelopment agency.
Below is a list of the nine people appointed to new task force, followed by the council member who appointed him or her. Four at-large slots on the group were also filled on Monday night. These initial appointments run for six months. The task force will hold its first meeting later this month.
Lisa Andreson (Prang)
Adam Bass (Land)
Rob Bergstein (Heilman)
Jen Dunbar (D'Amico)
Carlos Florez (at large)
Michael Jay (at large)
Steve Levin (at large)
Alicia Matricardi (Duran)
Ruth Williams (at large)