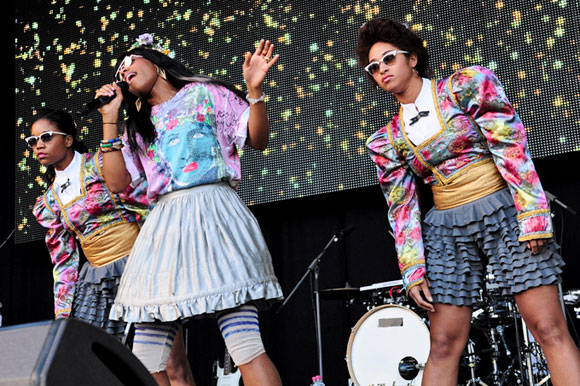 Everyone knows her song "L.E.S. Artistes," named after Alejandro Jodorowsky's "The Holy Mountain." If the name doesn't ring a bell, the chorus will surely remind you.
"I can say I hope it will be worth what I give up. If I could stand up mean for the things that I believe."
It was that smash hit that you couldn't escape during the spring and summer of 2008.
This weekend, the House of Gold is proud to host Santiblue. Wait a minute, that's not right, rewind that … and reverse it. Santigold brings her brand of alt rock-new wave-dub-reggae fusion-electronica (she's called her music "genre-less") to the main stage of the HOB on Saturday.
She may have a few special guests to boot, because she just loves to collaborate. Her albums feature guest appearances from GZA, Aoki, Lil' Wayne, Drake, A$AP Rocky and even Talking Heads creator David Byrne.
She was born in Philadelphia, where she attended Wesleyan University and double majored in music and African American studies. She went on to work as an A&R representative for Epic Records but soon left to co-write and executive produce "How I Do," the 2001 debut album from singer Res.
Let's talk about her names for a moment because there is much confusion. Legally, it's Santi White, her stage name is Santigold. However, she is primarily known as Santogold, which was her name in 2008 when she released an eponymous debut album. It made Rolling Stone's "Albums of the Year" list. She was mostly praised for her ability to successfully crossover many genres, creating a new kind of sound.
After the initial success, she went back to the 'i,' adopting Santigold once again.
So, for those keeping score, that's Santi White to Santigold to Santogold … then back to Santigold. Until further notice, that's the story.
White began her singing career as front woman for the Philly punk band Stiffed. Darryl Jennifer, bassist of Bad Brains, produced 2003's EP "Sex Sells" and 2005's full-length album "Burned Again." During this period, Martin Heath of U.K.'s Lizard King Records approached her about trying a solo career. Santigold was born.
Her singing style is very similar to friend, collaborator and former tour-mate, M.I.A.
White, however, is far less political, and as a result her songs are used in commercials for products like Converse, Bud Light Lime and Kohls.
On the other hand, M.I.A. made the U.S. Department of Homeland Security "Risk List" in 2006.
Her new album "Master of My Make-Believe," seems very promising. The first single is "Disparate Youth," a beautiful song about an ugly topic, children in war. Watch out Homeland Security.
She collaborated with Karen O and Nick Zinner of the Yeah Yeah Yeahs on the song "Go," produced by Q-Tip. The music is almost entirely electronic and very catchy. Layered melodies are accented by repetitive electric guitar riffs and paired with chaotic percussion.
Often, her a cappella vocals are reminiscent of Rihanna, who broke out around the same time as White.
So M.I.A. vs. Rihanna vs. Santigold: Who gets the title of best female vocalist from 2008? You've got the opportunity to see one of them Saturday night.