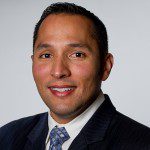 West Hollywood City Council candidate Christopher Landavazo has raised $17,151 in cash and noncash contributions for his campaign, according to reports released Wednesday (Feb. 6) by the city clerk's office. Landavazo also reported a $9,000 loan to himself, bringing the total funding of his campaign for the March 5 election to $26,151 through Jan. 19, the end of the most recent reporting period.
Landavazo ranks fourth among the nine candidates in funds raised for the campaign for two council seats. Incumbent John Duran reported contributions totalling $58,315. Challenger Sam Borelli reported donations of $20,358. Mayor Jeffrey Prang reported donations of $17,525. Steve Martin, an attorney and former council member, reported donations of $2,260 and a loan to himself of $6,000. Candidate Tristan Schukraft reported $3,383 in loans by himself to his campaign. None of the other challengers reported more than $400 in funding.
Landavazo's contributors included City Councilmember John Heilman, who gave $99, candidate Martin, who gave $50, and Torie Osborn, deputy mayor of neighborhood and community services for Los Angeles, a major LGBT activist and an unsuccessful candidate for California's 50th Assembly district, which includes West Hollywood.
Landavazo and Martin have singled out Duran for criticism, with Landavazo accusing him of threatening local businesses that might support him, and Martin, a leader of a campaign to limit council members to 12 years of service, alleging that Duran had intimidated business owners approached about hosting a term limits campaign event. Osborn also has criticized Duran. His heated verbal attack on her at a West Hollywood-Beverly Hills Democratic Club meeting in January 2012 was captured on video and went viral. Duran, angered that the club endorsed Osborn instead of incumbent Betsy Butler, interrupted the proceedings to exclaim: "We're not going to work for you, Torie. This is bullsh*t!" He then stormed out of the meeting, saying, "West Hollywood will remember, Torie."
Landavazo filed his report on Feb. 5, missing the Jan. 25 deadline and leaving him subject to a minor fine. His campaign consultant, John Applegate, said he filed the reports late because of concerns that donors to Landavazo were going to be pressured by the incumbents.