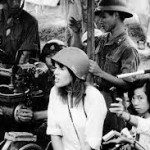 One Billion Rising? At West Hollywood's Sal Guariello Veterans Memorial Park last Thursday it was more like 999,999,999. The One Billion Rising event, designed to promote a campaign to fight violence against women, attracted WeHo council members Abbe Land and John Duran and council candidate Sam Borelli, along with actors Marisa Tomei and Anne Hathaway and a number of local women. Missing was Christopher Landavazo, the deputy sheriff and Navy veteran who also is running for the WeHo council. Landavazo objected that Jane Fonda, still controversial among veterans for her actions during the Vietnam War, had a leading role in an event staged at a park dedicated to veterans.
Landavazo said he was a strong supporter of efforts to curb violence against women, but thought that inviting Fonda to an event in a veterans' park was insensitive. During the Vietnam War, Fonda made a controversial trip in 1972 to Hanoi, where she was photographed sitting on a North Vietnamese anti-aircraft battery and made radio broadcasts calling American political and military leaders "war criminals." She also called prisoners of war who returned to the United States after the war "hypocrites and liars" for claiming they had been tortured by the North Vietnamese. Fonda has subsequently said she regretted being photographed on the anti-aircraft gun but stood by her other comments.
EDITOR'S NOTE: An earlier version of this story said that John Duran objected to Jane Fonda's presence at the event in Sal Guariello Veterans Memorial Park. The objection was raised by Christopher Landavazo.