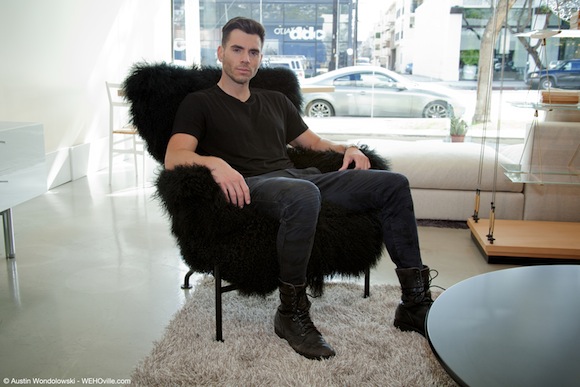 Born and raised in Brazil, Denis de Souza remembers admiring the natural beauty of "sun-kissed strands" found in women's hair from their days spent on the beach.
Today, as an acclaimed hair colorist at Andy Le Compte Salon in West Hollywood, de Souza is bringing that look — his signature "Ipanema Beach Blonde" coloring technique — to the locks of locals and celebrity beauties, such as Mila Kunis, Rachel Bilson, Nicole Richie, Ashlee Simpson, Rashida Jones and Lucy Hale.
"Think Gisele Bundchen after a week-long vacation at the beach," he says.
His work, tips and techniques have been featured in countless beauty magazines, such as Vogue, People, Harper's Bazaar, Glamour and Allure.
But what does he do when he doesn't have hair on the brain?
[hr]
In his own words, here is Denis de Souza's perfect Saturday in West Hollywood:
It's no wonder that after a long week of waving my magic wand highlighting countless heads, brushing the gray away and granting my clients' wishes via the mirror, I need to enjoy my Saturday. Amazingly there is no rest for the weary since my Saturdays are busier than a WeHo gym right before bathing suit season.
Waking up to work out with my trainer Eduardo Milioni is a marathon in and of itself. I can't help but wonder if this is the equivalent of medieval torture. It can be brutal at times but the result is effective and downright satisfying. Once you agree to the terms, you might as well work hard. Fortunately, I never sweat the small stuff. You know it is going to hurt, but if it makes you look good in t-shirts you do it anyway.
Of course, I haven't settled for a sugar-free existence. The catch is going to brunch at Cecconi's with friends. Almost two hours later, after great conversation, my eggs Florentine and a few mimosas, I have to rush in order to be on time for a spa day at Ole Henriksen. Here is where time stands still. And P.S. it does! They are efficient and organized, as though they are about to disarm a time bomb.
Since I'm on the lookout to buy my first property, perhaps in WeHo, I've recently become more inclined to buy furniture at Cassina than Ikea.
I meet with my friend Carlos Antonio there. He helps navigate through the beautiful store. After I've made a full lap around the store, and my mind is fully inspired, I get a phone call from another dear friend and artist Paul Rusconi. He invites me to come over to his home to see his new paintings over afternoon tea and cookies with his two beautiful daughters. After a great time with them, I leave their house dreaming of one or more of their art pieces hanging on the walls of my new place.
After a busy day running around my favorite spots like a crazy person, and meeting up with my dear friends, it's time to meet my boyfriend for a romantic dinner at Fig & Olive.
And just like that the magic is back on. He looks incredibly handsome, the food is delicious and the dirty kettle martini is a must have. A little while after dinner is finished, it's time to go home and cuddle while watching another episode of one of our favorite shows till we fall asleep in each other's arms.