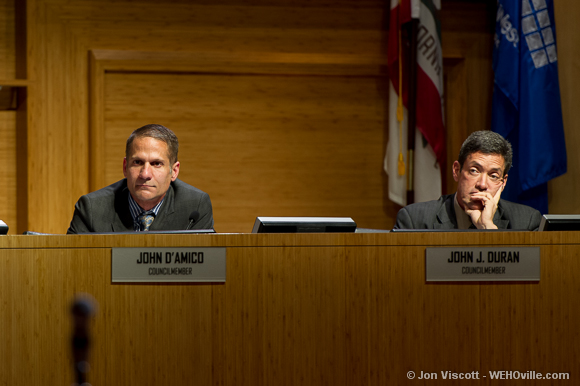 While West Hollywood City Councilmember John D'Amico has come out in support of the Measure C term limits initiative on the March 5 ballot, he also continues to support his colleagues, incumbents John Duran and Jeff Prang, in their bid for reelection to the city council.
"I have observed the people currently running (for the two council seats up for election) and I don't think any of them are prepared to be on the city council," D'Amico said. "That's why I very strongly support John and Jeff. I think they are the best two candidates to be reelected. I think they have proven their ability to lead and take care of neighborhoods and community and make wise decisions."
Elected to the council in March 2011, D'Amico is the only member of the council to come out in support of the term limits. The other four council members – Duran, Prang, Abbe Land and John Heilman – all strongly oppose the measure.
If passed, Measure C would limit West Hollywood City Council members for three four-year terms in office. The measure is not retroactive, meaning that all current members of the council would be allowed to serve another 12 years, provided the voters keep electing them. On the current city council. Heilman has served for 28 years, Land has served for 21 years, Prang for 16 years, Duran for 12 years and D'Amico for two years.
"I'm supporting Measure C because I'm interested in setting a deadline for us, so as leaders in the community we can begin to help men and women, transgender men and women, to be ready to be on the city council," D'Amico said. "I think it's difficult to run for city council. It should be difficult. But I think we have to mentor people to be ready to do the hard work of running and do the hard work of being a councilperson."
One reason D'Amico felt it necessary to go public with his support for Measure C was the fact that many residents automatically assumed he joined his four colleagues in opposing the measure.
In September when term-limit supporters were gathering signatures to qualify for the ballot, he signed the petition. However, at the time D'Amico said was opposed to term limits, and felt that coalition building was a better way to achieve change.
"I signed it because I wanted (the community) to have a discussion," he said.
As a result of those conversations, D'Amico changed his position.
"I have spoken to probably close to 100 people about Measure C, some of them against Measure C, most of them for it," he said. "The words that I hear over and over again are that they want to see some change on the city council."
D'Amico hopes to send a message to voters that it's OK to vote for term limits and also vote for Duran and Prang.
"A lot of people thought you couldn't support Measure C and the incumbents," D'Amico said. "But it's reasonable to support both."
Term limit supporters say the sudden support from D'Amico is a shot in the arm for their campaign.
"It energized us tremendously. Our volunteers are putting even more effort into getting the measure passed," said Schmidt. "John D'Amico has shown that longevity is not a qualification for serving in public office."