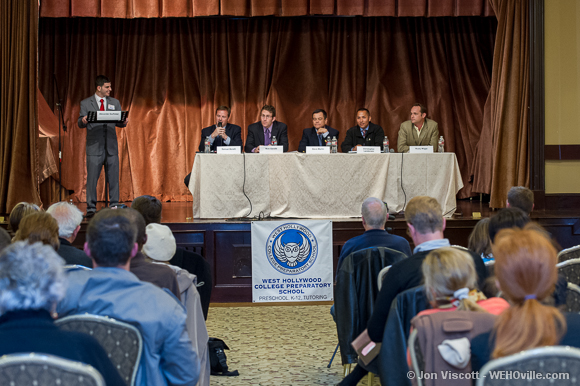 Students had their chance to fire questions at five of the nine candidates running for two city council seats on Wednesday night as 50 people attended an hour-long debate at the West Hollywood College Preparatory School.
The K-12 school is housed in the Iranian American Jewish Federation temple complex on the northwest corner of Crescent Heights and Fountain Avenue.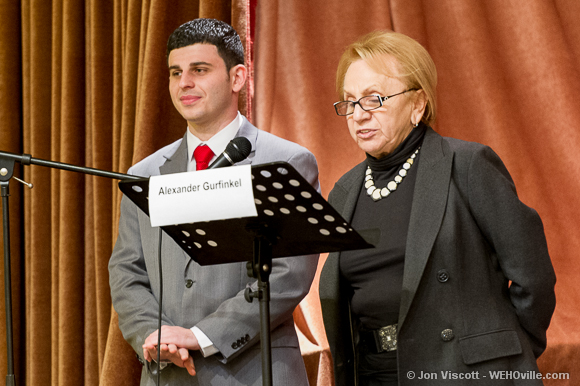 Nine students in the school's 8th through 12th grade U.S. government and history classes came up with questions for the candidates after spending six weeks researching the issues, according to organizer Guy Lande. Topics included transportation, homelessness, housing, technology, environmental issues and the city's Russian community. School alumnus Alexander Gurfinkel served as the debate's moderator.
Incumbents Jeffrey Prang and John Duran did not attend due to work commitments. Without their presence, the participating candidates skipped the flippant remarks and biting asides they aimed at the incumbents in the former debate, put on by West Hollywood neighborhood associations two weeks ago.
Candidate Sam Borelli, who has been a public safety commissioner for the last decade, emphasized shoring up the city's eastside by engaging residents, especially when it comes to Plummer Park renovations.
He also continued to make his case for getting younger WeHo residents civically involved. To that end, he is pushing for the creation of 200- to 350-square-feet "micro-housing" apartments that are affordable for young people.
Candidate Nick Garzilli discarded Borelli's idea. The micro-units would be like living in cages, he said. He did, however, argue for rehabilitating the city's older apartment buildings, and using crowd-source funding sites, like Kickstarter, to do it.
Garzilli, once again, spoke extensively about his dream of building a network of personal rapid transportation (PRT) pods to move people on lines above the street. He said it would eventually be possible to transport people to San Francisco in 30 minutes, and New York City in 45 minutes with Evacuated Tube Transport.
Borelli, on the other hand, advocated for a nighttime Weho Trolley, which has long been in the works, to go to nightlife areas and "inspire people to leave their cars at home."
Candidate Chris Landavazo, who works as an LA County sheriff's deputy, focused on discussing public safety. He advocated for installing cameras in Plummer Park and LED street lights for improved visibility and lower costs.
The topic of homeless produced one of the more controversial comments of the afternoon as Landavazo said he would "empower" homeless people by offering them two options: They could either go to PATH (People Assisting the Homeless) to get housing and other services, or they could go to jail.
The homeless would be easy to arrest because they panhandle aggressively, Landavazo said.
Candidate Rusty Wiggs, who works as the office manager of a Beverly Hills psychology practice, said he would make sure mental health services were available for the homeless, while former council member and current candidate Steve Martin said he would work to expand drug and alcohol services to homeless people, because he believes those are most often the issues that contribute to their homelessness.
Martin also said he wants to keep the city's urban village feel and would push to get rid of the developers who he believes are currently running city hall. Martin said he would work to preserve the city's rent-control housing by eliminating incentives that encourage developers to tear down older, affordable buildings to build luxury condominiums.
Martin advocated finding ways to integrate the Russian population more into the city, noting that the Russian community is less insular these days as the population gets younger and is more likely to be bilingual.
Post-debate, school officials said they were pleased and proud of the students for coming up with the questions.
"I think this will likely become an annual event," said Gurfinkel.