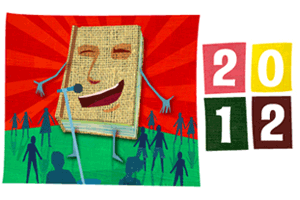 The West Hollywood City Council set a date of Sunday, Sept. 29 for the next West Hollywood Book Fair during its Tuesday night meeting. The council also voted 4-1 to increase the budget for the annual event to $225,000, up almost $65,000 over the 2012 budget (a 40 percent increase).
The increased budget will allow book fair organizers to expand programming this year and increase services to attendees.
The council also expressed a desire to expand the book fair in future years to include an entire weekend worth of events held both during the day and at night. Possible nighttime events mentioned include free movie screenings in West Hollywood Park, music acts and "in conversation" chats with well-known authors.
Councilmember John Heilman said making it a weekend event would encourage more people to spend the night, thereby helping area hotels.
Councilmember John D'Amico said it is time to "professionalize the event" and work on the city's branding with this signature event.
"The book fair aspect of it is aching to be more," said D'Amico.
Mayor Jeffrey Prang was the lone vote against increasing the budget as he expressed concern over the extra cost.