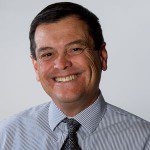 West Hollywood City Councilmember John Duran and a campaign committee supporting him are targeting challenger Steve Martin in their latest series of mailings to voters.
The mailings are funded in part by newly reported donations to the Friends of West Hollywood Committee Supporting John Duran for City Council 2013 that boost overall contributions to $324,425, or $162,213 for each of the two council seats in contention in the March 5 election. Half of that amount has been donated to Duran or his supporting committee. Mayor Jeffrey Prang has raised $83,540. The bulk of contributions to both incumbents have come from real estate interests and from outside West Hollywood.
Ironically, the Friends of West Hollywood committee, whose mailing criticizes Martin for voting for the Gateway Center at La Brea Avenue and Santa Monica Boulevard and the Sunset Millennium project at Sunset Boulevard and La Cienega, has major financial backing from real estate developers, many from outside West Hollywood.
According to the latest reports released by the West Hollywood City Clerk, the committee has raised $46,750 to finance its mailings and other support for Duran. Of that amount, $13,000 comes from real estate interests. Those donations include $5,000 from BMB Investment, a Beverly Hills-based builder of a 30,000 square foot showroom on Melrose Avenue at Westmont Drive that is opposed by local residents; $5,000 from Excel Property Management of West Hollywood, owned by Arman Gabay of Bel Air, who also owns Charles Company, another developer; $1,000 from Cunningham Development, one of several developers associated with Gary Cunningham of Redondo Beach; $1,000 from Nasa Investment Group, a construction management company based in Los Angeles whose president is Yousef Akhtarzad, and $1,000 from Jerome Nash, owner of the historic Mirador apartment building on the corner of Fountain and Sweetzer avenues, who has threatened to demolish the building if he can't come to terms with the city on a plan for redeveloping it.
Other major donors to the Friends of West Hollywood committee include Athens Services, a city trash pick-up contractor, which has given $10,000, and W.H.B.T, owner of Micky's, the gay bar on Santa Monica Boulevard, which has donated $5,000.
The Friends of West Hollywood mailer accuses Martin of soliciting money from developers of Gateway Center and Sunset Millennium projects. It also quotes Larry Gross, executive director of the Coalition of Economic Survival, a group that has fought for rent control regulations in West Hollywood, as saying Martin is a "threat to rent control." A mailing by Duran's own campaign committee quotes council member John Heilman as endorsing Duran. It also quotes Gross as opposing Martin.