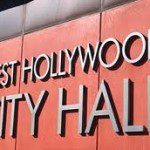 Over the next three weeks (starting on Monday, Feb. 25) the city will refresh roadway markings and striping along Melrose Avenue, between Doheny and La Cienega.
PCI, the city's street maintenance contractor, will grind off damaged and faded roadway legends, striping and crosswalks and then will re-do them with paint. The crosswalks will be installed according to the city's new crosswalk standards by removing the limit line and installing yield line markings.
All work will be done between 9 p.m. to 5 a.m. to minimize the inconvenience to local businesses and lessen impacts to traffic on Melrose Avenue throughout the day.
Brian Jackson of the City of West Hollywood's Public Works Department will be overseeing the project and can be reached at (323) 848-6879.