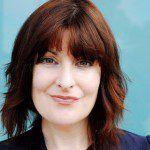 Monica Carter, a writer, educator and activist, has been named LGBT Writers in Schools Program coordinator for the Lambda Literary Foundation. Carter, who has headed that program as a volunteer for the past year and a half, will be responsible for organizing author visits to high school and university literature classes and facilitating the My Story Book Club for young adults, all part of Lambda's effort to expand its efforts to work with young people to promote LGBT literature.
"I'm thrilled to have Monica become a member of our staff," said LLF Board President, Dr. Judith Markowitz. "As a volunteer she was an integral part of growing the LGBT Writers in Schools program. As a staff member, she brings a high level of energy, innovation and expertise to developing the program's future."
Carter is a writer with ten years experience working in the Los Angeles literary community including managing independent bookstores, organizing and marketing LGBT literary events, and promoting translated literature. She is a book reviewer and has been a judge for the Best Translated Book Award for the past five years. She also curates her own website, Salonica World Lit, dedicated to international literature and culture. Carter has taught for PEN in the Classroom and created an anthology of students' writing entitled Green Light. A fellow in the 2010 PEN Center's Emerging Voices and the 2012 Lambda Literary LGBT Emerging Voices fellow, she recently graduated from the PEN Center's Mark Fiction program. Her work has appeared in Black Clock, Bloom, The Rattling Wall and Cactus Heart.
More information about the LGBT Writers in School Program in available online. Carter can be reached at mcarter@lambdaliterary.org. to arrange an author visit to a school, or to discuss any other aspect of the program.
The Lambda Literary Foundation, a national organization based in Los Angeles, focuses on nurturing, celebrating, and preserving LGBT literature through programs that honor excellence, promote visibility and encourage development of emerging writers. LLF's programs include: the Lambda Literary Awards, the Writers Retreat for Emerging LGBT Voices, LGBT Writers in Schools, and its web magazine, The Lambda Literary Review