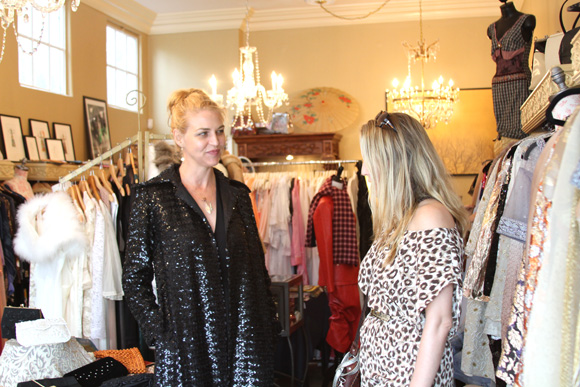 Think you can walk into a vintage clothing store in West Hollywood and buy a mint-condition designer dress for less than $100? Think again. Vintage fashion is booming, making it harder to score a great dress for less.
Here's the proof: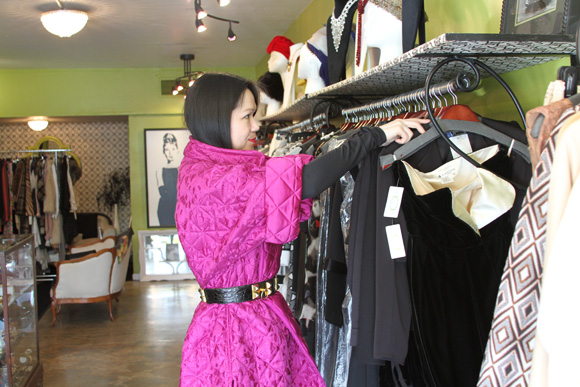 People from all over the world shop for high-end clothing in West Hollywood, said Tsutomu Carton, co-owner of Sielian's Vintage Apparel at 9013 Melrose Ave. That, and the fact that the rent is higher, makes West Hollywood prices higher than in areas such as Silverlake, Downtown L.A. and the Valley.
"You will pay significantly more rent for a shop in my area than other areas," said Beth LaMure, owner of Simply Vintageous at 8629 1/2 Melrose Ave. "Also, shops in these areas tend to be more carefully curated — only with pristine vintage."
Simply Vintageous and Sielian's Vintage Apparel are the only two stores in West Hollywood dedicated to high-end vintage fashion.
Despite having dressed Hollywood's elite, they are younger and less well-known than larger, more visible establishments such as Lily et Cie (nearby in Beverly Hills), Resurrection, at 8006 Melrose Ave., and Decades, at 8214 Melrose Ave.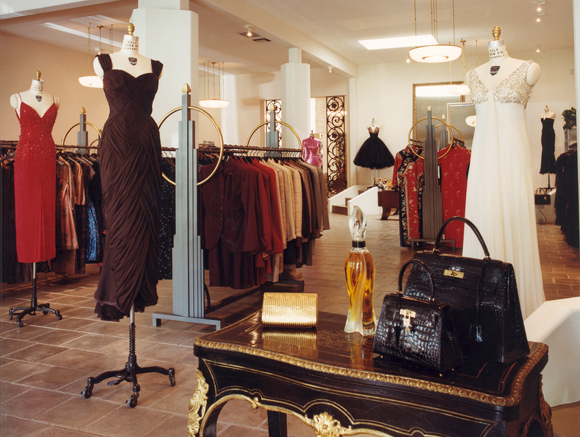 At Lily et Cie, called a "Los Angeles institution" by The New York Times, owner Rita Watnick said she has half a million pieces, some of which have been purchased by museums. While some items are priced as low as $100, Watnick said, "Expect to see what you'd find at Neiman Marcus, Saks or Bergdorf. It's the same except that it's vintage."
Decades, known by shoppers for its biannual shoe sale and annual Chanel sale, has a reality show coming out as well as a book about co-owner Cameron Silver's expertise. There, customers can find two floors of modern and vintage goods, including Christian Louboutin heels for less than $200 and coats priced as high as $12,000.
The atmosphere is similar down the street at Resurrection, where stylists frequently find brand names like Chanel for celebrity photo shoots like this one. While prices generally range from $350 to $3,200, Resurrection recently sold a crocodile Hermès Birkin bag for $62,000.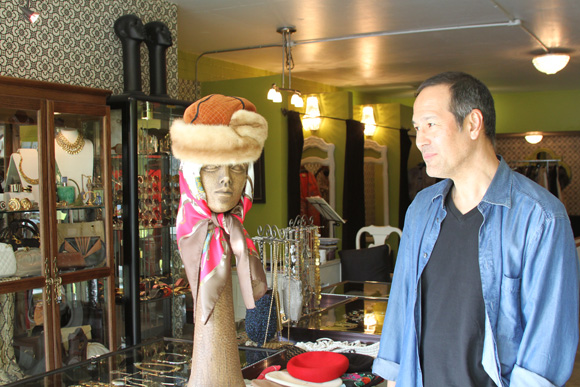 Prices are lower at Sielian's Vintage Apparel, where Carton's wife and business partner Sielian Lie (pronounced "Sillian Lee") curates a relatively small collection of "pre-loved" goods, from non-designer belts priced as low as $100 to designer gowns and handbags priced up to $2,400. She and Carton run the store with no staff, and cater to clients such as Zoe and celebrity stylist Gali Barraza.
We know what you're thinking. "It's just someone's old stuff! Why so expensive?"
Lie says it's because many of the items in her store aren't mass-produced or sold in major stores that stock only the most recent fashion items. Plus, they're fashionable. "There is literally only one of each item here," Lie said. "Our casual things are more affordable and competitive with today's designers, but you're less likely to see other girls wearing the same thing."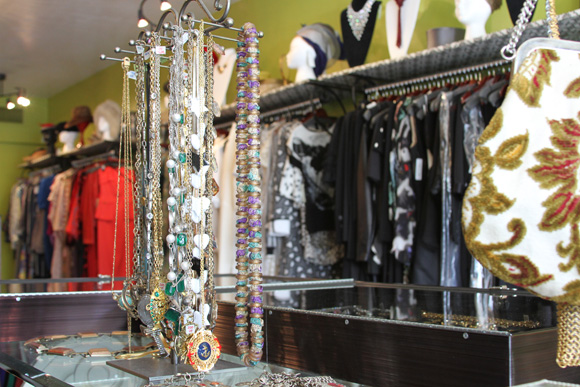 In addition to the time, experience and labor that goes into finding "beautiful, timeless, classic, well-made" pieces from around the world, "you pay for being unique," Lie said. She and Carton travel as far as Paris, selecting pieces based on Lie's personal taste and 15 years of experience researching and buying vintage.
Of course, you don't have to spend $2,000 on an authentic '60s Chanel dress at Lie's shop to be unique. At Simply Vintageous, you'll find clothing and accessories typically priced between $100 and $300 (although LaMure did once sell a fur coat for $2,500).
"My prices are a lot lower than Decades and even more than slightly with Resurrection and Sielian's mostly because I'm new to the business," says LaMure.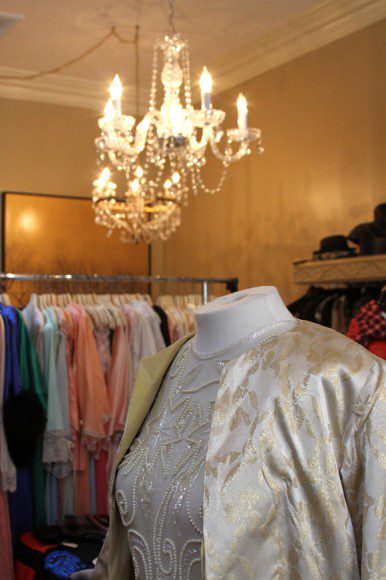 Since opening her vintage shop as a pop-up in 2011, LaMure has drawn the likes of Del Rey, Kristin Chenoweth and celebrity chef Lulu Powers, as well as "rich Beverly Hills housewives," stylists, tourists, photographers, drag queens and brides-to-be, she said. Her stock comes mostly from her days owning a music video production company, but she also spends about two months a year searching for vintage pieces in New York, Paris and Miami.
While LaMure and Lie both sell fashion label vintage clothes, they are the first to admit that good vintage pieces don't always come from high-end designers.
"Label vintage can get outrageously expensive," LaMure said. "You don't need famous labels for a beautifully made piece."
That said, consumers tend to recognize and trust labels more, which is why they continue to sell it.
"Eighty percent of shoppers care about labels," said Lie, who sells dresses from designers such as Chanel, Chloé and Valentino. "Labels are not important to me personally but I'm in a business, so I put importance on it."
More accessible, mid-range vintage stores such as Crossroads Trading Co. (aka Crossroads) at 8315 Santa Monica Blvd. are no exception.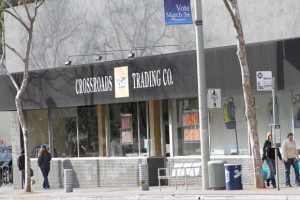 At Crossroads, we found clothing from brands like Phillip Lim and Stella McCartney for less than $300 — but they were still priced significantly higher than non-designer labels.
Also, there was no knowledgeable salesperson waiting to answer our questions, and some items had that musty "thrift store" smell to them.
"If it smells or itches, that's not a good sign," said Lie, who has every item dry-cleaned to banish funky scents.
Still, if higher prices are a concern, doing the dirty work yourself can be worth it — which is why lower-end thrift stores are able to offer such low prices. We've seen locals and tourists in WeHo wearing fabulous vintage finds from stores such as Goodwill. And even at Out of the Closet on Santa Monica Boulevard, which has more furniture than clothing, we found a decent collection of non-label men's hats priced under $7.
"If you have a good eye, you can find something good at a thrift store," LaMure said. You just have to know what to look for.
To train your eye, Lie recommends observing what actors wear in old movies, and shopping until you drop. Buying vintage is a learning experience, she said. And "making mistakes is part of learning."
[hr]
The Four Signs of Good Vintage
[hr]
1. High-quality fabric. Items with thinner, more fragile material may be priced lower, but items with weighty, richer fabric will likely last longer, LaMure said.
2. Good-quality stitching. Most consumers can't tell the good from the bad, Lie said. To get a better idea of what good stitching looks like, study high-end suiting and check out online tutorials like this one on jeans.
3. Good cuts. Never mind sizing; standards change over time. Buy clothes that fit in all the right places, or consider taking them to a tailor. "Clothes look more expensive when they fit you well," Lie said.
4. Timelessness. If it looks dated, skip it. "It should look as current today as it did back in the day," LaMure said.